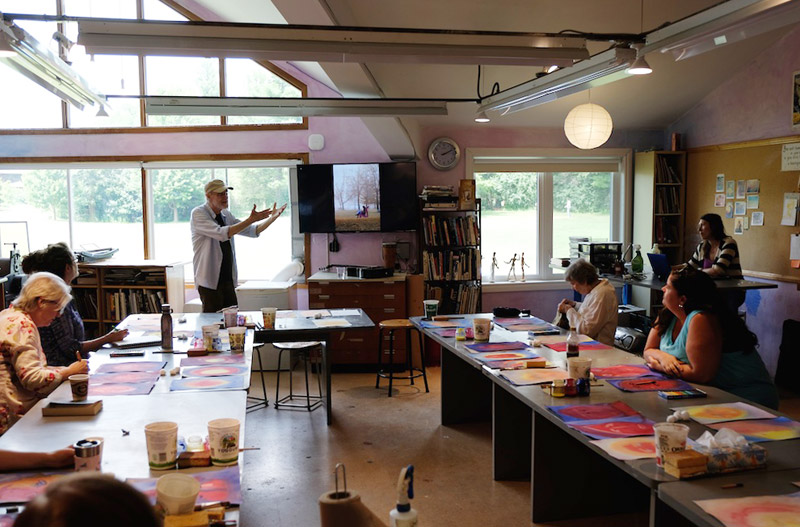 If you missed Larry Young's Art for Humanity's Sake course at this year's RSCC Summer Festival, life is giving you a second chance, because the folks at Hesperus have arranged for Larry to speak there on that same theme this Sunday at 3 pm. Photo above is from Larry Young's art class at the 2019 Summer Festival. See details for Sunday's event below, from the Hesperus poster – RC
The spiritual significance of art has gradually declined over the past five centuries. An increasing number of artist, writers and educators are coming to the conclusion that art has to be renewed so that it can become a tool for self-development and social renewal.
I believe that artists can achieve these goals when armed with a full understanding of the creative laws in nature. With the help of slides I will reveal the "Three Basic" laws hidden in nature and great works of art, and talk about how I utilize them in my artistic process. – Larry Young, Artist
Larry Young is a graphic designer, educator, painter, sculptor, photographer and filmmaker. As a teacher at the Green Meadow Waldorf School in Spring Valley, he created a high-school art curriculum based on Rudolf Steiner's perception of the changing adolescent. In 1994, he designed and installed the Truth and Beauty – the Role of the Arts in Waldorf Education exhibit at Saint-John the Divine Cathedral in NYC that was viewed by an estimated 200,000 people.
Location: Hesperus Village, 1 Hesperus Road, Thornhill,
We are a Scent Free building. Parking spaces 19 – 34
Admission: Suggested $20 or pay what-you-can, limited seating
Contact: Tel. 905-709-6516 Email: alexandragunther1@gmail.com
Save the Date ~ Future Cultural Events: Sunday, October 1st and November 5th