Summer Festival of Arts and Education 2022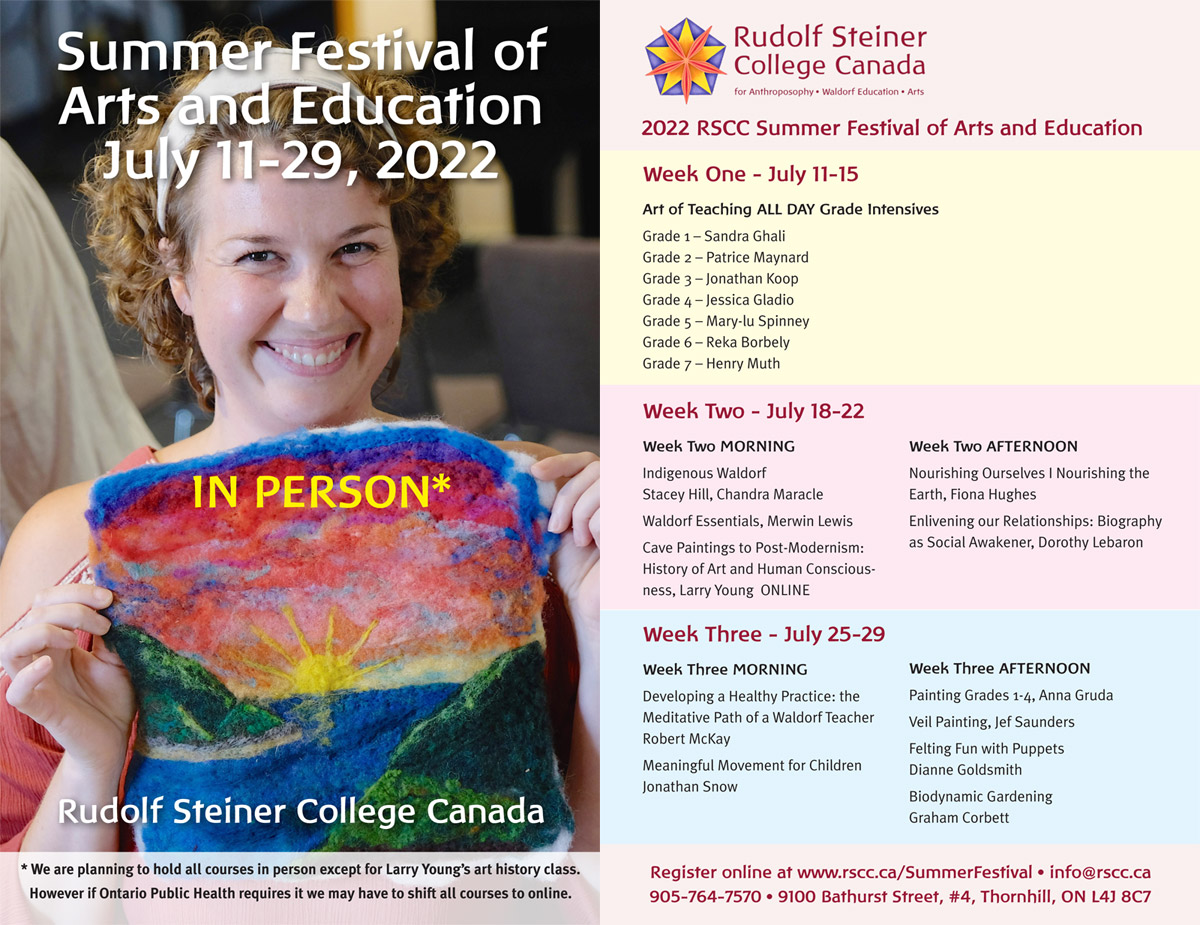 The 2022 RSCC Summer Festival of the Arts and Education is scheduled to take place in-person, except for one course. The last in-person Summer Festival was in 2019. So we're looking forward to welcoming you to our campus in Thornhill once again for the Summer Festival. Dates this year are July 11-29.
The Summer Festival brochure is now ready, with course descriptions and bios of the presenters. Click the link above to download it as a pdf.
You may notice that we're not offering a Gr 8 intensive this year. That's because not many people registered for that last time. Maybe by the time teachers get to grade eight, they are confident enough to prepare for that final year on their own. Intensives for Grades 1-7 include a full day of grade-specific content.
WEEK-ONE GRADE INTENSIVES are designed for those actively involved in grade-specific Waldorf curriculum or who are interested in doing so, i.e., Waldorf teachers, public school teachers, homeschoolers and Waldorf parents wanting to know the curriculum. That said, all the courses are open to whoever is interested, be they parents, administrators, teachers or students.
Vegetarian hot lunches will be available at the nominal cost of $75 a week. If you want to take part in the meals, you will need to pre-order them on the registration form, when you register for your courses.
See summary of courses and registration form link below:
June 14 Update: Grade 8 Now Added to Grades Intensives
Back by popular demand! Responding to the expressed needs of teachers, we have decided to add a grade eight option to our Week 1 offerings. Please note that the grade eight intensive will be a little different from the intensives for grades 1-7 which will be full-day grade-specific programs.
The grade eight intensive will be a workshop/mentoring program where participants should come with their block titles for the year. The outline of the week is as follows: child development, fleshing out the year setting block objectives including art, language arts objectives and math objectives (tasks and content book). The grade eight intensive also includes the planning of weekly schedules and daily schedules/rhythms. Afternoons will be free to work on lesson plans or take part in the artistic activities of the Grade 7 intensive.
For more about presenter Carlina Heins, see: https://rscc.ca/grade-8-now-added-to-summer-festival/
© Copyright 2022 RSCC. All Rights Reserved.
This program does not require approval under the Private Career Colleges Act, 2005.