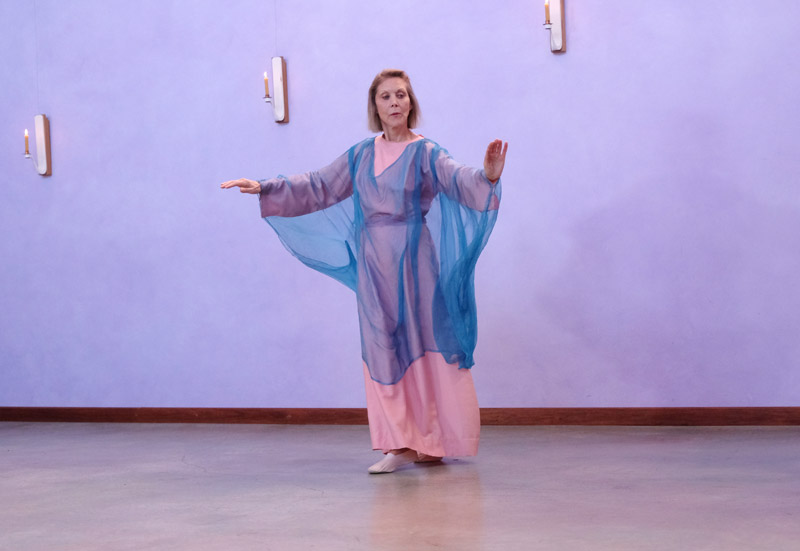 RSCC friends Anthroposophy in Toronto and Lori Scotchko are offering adult eurythmy classes in Toronto and Thornhill respectively. Both courses start in April 2022. See full details below. Lois Mccaulay — shown in the photo above in a recent eurythmy performance — introduces the Toronto course as follows:
I am very excited to be leading the first adult Eurythmy class in downtown Toronto in ages. This is a remarkable artform unlike anything else. It invigorates and uplifts by taking hold of body, soul and spirit in their individual capacities, through the dynamic principles set forth by Rudolf Steiner, drawing upon profound spiritual insight, and applying them artistically in creative movement to music and poetry.
The first three classes centre around foundational principles and snippets of gorgeous poems. I will be joined by recitalist singer Kim Kendrick, who performed with me when we were creating programs for the museums, many moons ago, and who will recite the poems for our dance. Kim studied singing at the Royal Conservatory of Music with Glen Gardiner and Victor McCorry. She is an experienced recitalist having produced and performed programmes with a wide range of music dating form the middle ages to 20th century works. She was a founding member of an ensemble of women musicians and composers known as A Room of Her Own. This ensemble presented eclectic programming of music of women composers such as Hildegard of Bingen (with me!), Barbara Trozzi, Fanny Mendelssohn, Clara Schumann, and Amy Beach.
The following five sessions will be supported by the extraordinary violinist Etsuko Kimura. Moving to violin is like swimming in double salted sea water. Etsuko is taking time away from her students and her position as assistant concertmaster of the Toronto Symphony Orchestra to play for our eurythmy lessons. She appears frequently at concert halls across Canada and the world, leading eminent chamber ensembles, performing as a featured soloist with major international orchestras, and maintaining a full recital calendar. When she is not performing with the TSO, she serves as a guest concertmaster for orchestras in Japan and many other countries. It is our great fortune that Etsuko is dedicated to bringing music into various communities!
If you live near Trinity Saint Paul United Church on Bloor at Spadina you might want to try a single sample class just to see what it's all about. Eurythmy is unlike anything else!These are very special sessions with limited space. I wanted to re-introduce Eurythmy to Toronto in a world class way!
Anthroposophy in Toronto presents:
Eight Spring Eurythmy Classes in Toronto
Saturdays from 2:15 to 3:30, April 23 to June 11, 2022
Trinity St. Paul United Church, Chapel / Studio, 427 Bloor Street West, Toronto
Eurythmy is an art of movement developed by Rudolf Steiner, noted for its ethereal beauty and harmonizing vitality. Called visible music and visible speech, classes will be accompanied by a leading professional violinist and a poetry reciter. The program is designed to introduce eurythmy to newcomers and provide interest for experienced students.
Lois Macaulay, stage eurythmist, trained by Margarete Proskauer, takes eurythmy from museums to home schools, performs with Northern Star.
Kim Kendrick, recitation, an experienced recitalist who studied singing at the Royal Conservatory of Music with Glen Gardiner and Victor McCorry.
Etsuko Kimura, violin, Assistant Concertmaster TSO, a featured soloist with international orchestras, involved in bringing music to the community.
$175 for 8 week series, $25 for a single class. Space is limited, register with Lois at 416-921-1043 or lois@bellnet.ca
Seven Mondays of Eurythmy in Thornhill
Dear Friends of Eurythmy — Beginning Monday April 25th for seven weeks we will resume work with forms given for the 34th week of the Soul Calendar by Rudolf Steiner. This is a form for 4 whose harmonious mirroring of opposites points to a real interdependence of each one of us to the whole. These classes are designed to help students bring balance and consciousness to their movements as well as working on an enlivening and challenging artistic piece. We will focus on deriving the quality of our movements out of the sounds. As these forms are for four eurythmists there is plenty of opportunity to watch and learn from peers.
7 Mondays starting April 25th from 10:00-11:00 A.M. Please register with me by email or phone prior to the start date.Registration fee:  $110.00 for 7 classes or $20.00 drop in fee. Classes at the Christian Community church, 901 Rutherford Rd. May the Word move you this Easter! — Lori Scotchko • 647-228-0426 • lori.scotchko@gmail.com
© Copyright 2022 RSCC. All Rights Reserved.