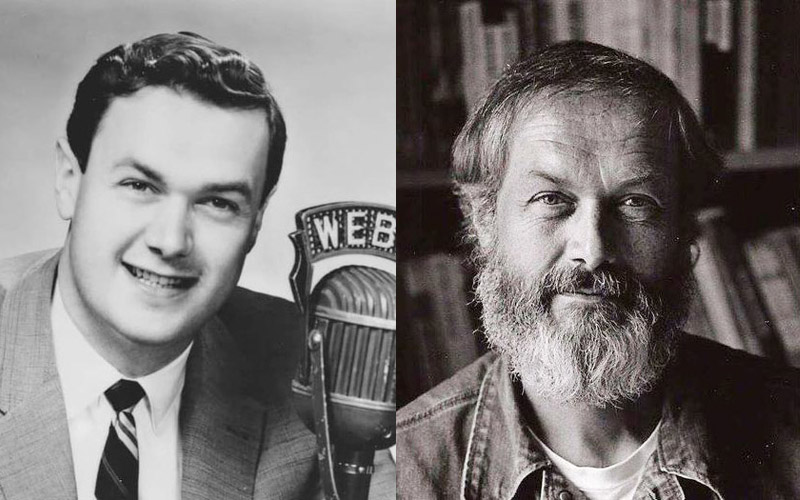 Bruce McCausland was a prominent figure in the Toronto anthroposophical scene during the 1970s. He is perhaps best known for running The Living Seed health food store which was also an outpost of anthroposophy with a bookstore and meeting room in the back. It was located in an area some called "salvation row" near to the Hare Krishna temple, the Divine Light Mission and the Anapurna vegetarian restaurant, on Avenue Road near Davenport in downtown Toronto.
The Living Seed was well positioned to enable young seekers to encounter anthroposophy without going too much out of their way. Many of those who, in their youth, were associated with Bruce's work at The Living Seed, have gone on to become active lifelong participants in the anthroposophical life in Canada over the decades that followed. After his time in Toronto, Bruce moved to New York state where he helped found the Aurora Waldorf School
Memorials and Services for Bruce
On Wed. July 12 there will be a memorial gathering for Bruce at the Aurora Waldorf School near Buffalo New York. The memorial will take place at 11:30am in the AWS Eurythmy Room. Bruce wrote an obituary that will be read at the gathering, along with some artistic contributions in gratitude for his role in supporting Anthroposophy in Western New York and Southern Ontario and supporting the growth and development of Aurora Waldorf School from its very beginnings.
There will also be a memorial service for Bruce at the Christian Community at 901 Rutherford Rd in Thornhill, Ontario, Canada, on Saturday August 12th at 11am.
The Obituary Bruce Wrote
For the Christian Community and Anthroposophical Friends
Bruce Henderson McCausland, January 1, 1931 – June 15, 2023
Bruce's birthdate and time tell us a lot about his life's mission. He was born exactly seven years, 1931, and, at 9:50 PM., quite possibly to the minute, after the doors opened following the crucial Christmas Foundation Meeting of the Anthroposophical Society in Dornach, Switzerland in 1924
Raised in a small, fundamentalist sect called Christadelphianism, Bruce's belief system was originally based on nothing more than blind faith. Two years of study at the University of Buffalo, now University at Buffalo, or UB, though, was enough to chop away all the props and leave him a confused, neurotic sophomore atheist who decided to join the US Air Force for four years of soul-searching. After a year's training in the States, 1951 found him heading for Landsberg, in Bavaria, southern Germany, where he was to spend the next three years with the Air Force Security Service, first as a radio operator, and then as an intelligence analyst. It was here that he fell in love with Germany, its culture and its people, and realized that it wasn't the Germans we had been fighting during that terrible World War II, it was the Nazis, and the cruel, heartlesssociopathic mentality that went with it. An important distinction.
After earning his bachelor's degree from UB in 1956, he completed a year of postgraduate training at Syracuse University which helped prepare him for his career in advertising. During a brief two-year stint at WEBR Radio, where he tried his hand as an account executive and later as an on-air personality, both with mediocre results, he married his wife Rhoda, and then started out as a copywriter at Comstock Advertising, Buffalo's largest ad agency. It was during the Comstock years that they had two children, Bruce A., and Valerie.
Later, although promoted to account executive, he wanted to sample life on the other side of the desk, as a client, so he took a job as advertising manager at Spaulding Fibre Company, a plastics manufacturer, in Tonawanda, NY, just north of Buffalo. It was during this time that incompatibility issues between him and Rhoda grew to intolerable length and he had to leave his marriage and his two loving children. This was a painful experience and left him feeling very vulnerable and fragile – and open to seeking a new romance.
Ginger Holcombe was a brilliant artistic talent and writer who had recently graduated from UB. When they first met, Bruce knew that he was in the presence of someone who had played a pivotal role in his life. The only problem was that it wasn't this life, and he had been convinced that reincarnation was just a fool's phantasy. Well, we'll see in a minute who the fool really was!
He encounters anthroposophy
Later that year (1969) he and Ginger planned to spend a couple of weeks in Toronto with her friend from UB, Laura Findley, and her husband, Bill. Those two weeks turned into nine years because Bruce's destiny awaited him in the person of Rudolf Steiner and his vast corpus of works on spiritual science. Never before had he encountered such clarity, such authority, and such meaningfulness regarding spiritual matters. He decided to stay in Toronto, so he accepted a position as account executive at Canada's largest ad agency, MacLaren, where he was responsible for Johns Manville's, Glidden Paint's, and Mutual Life of Canada's advertising.
After intensively putting anthroposophy to the test for two years, he established the fact that Steiner was a bona fide spiritual teacher, and that anthroposophy was not a hoax. It was too good to be true! Finally! A spiritual path worth treading! He had been studying Buddhism for a couple of years, but Dr Steiner allowedhim to explore higher and higher, more holy and sacred spiritualrealms. He was determined to make it his life's work so, in 1972 when he and another seventeen employees lost their jobs at MacLaren's due to an internal financial crisis, it became obvious to him that he must make Steiner's works available to the general public. With the generous help of Douglas and Elsa Andress he opened up Michael Books and Crafts on Gerard Street West, believed to be the first independently owned anthroposophical bookshop in the English language. Later, thanks to a loan from Rolf Zimmerman, owner of a large healthfood chain, he moved the books to 181 Avenue Road, took on a line of healthfood items, and opened Living Seed Health Centre, which he and a group of wonderful friends, too numerous to mention here, kept going until late 1978. The bookroom in the back also provided the perfect venue for the many free study groups he had there, sometimes conducting as many as three per week, a practice he continued up to the end of the century.
Back in those days Hill House, with its library and meeting room, was the hub for all anthroposophical activity in Southern Ontario, while The Christian Community, further up Avenue Road, was the centre for the Church programs. Bruce had joined the Church early on, probably as early as 1969 or 70, where he found, surprisingly, a powerful impulse within him during the Act of Consecration to get up and flee in terror! Yet he knew for a certainty that the Service was the holiest possible celebration he had ever found. After some introspection, he discovered that it wasn't he who was reacting so powerfully – it was the demons in him. And he had plenty of them to contend with! So he doubled up his attendance and included the 6:00 AM weekly service in German, a tongue he was familiar with, to help keep those monsters in check and show them who's the boss.
Back in those days there was only one Anthroposophical Members organization, the 150 member Michael Group, which met weekly at Hill House, and sponsored all the public speakers and other activities for southern Ontario. But when Alan Howard retired from the Toronto Waldorf School his wife, Mary, who was chairman of the Group, was about to leave with him to the West Coast to be with their son. This produced a vacancy, which was filled at the next General Meeting by electing Bruce as their new chairman, a position he filled for two years.
By 1978 his energy was beginning to flag, so he decided to sell the Living Seed and move to the Findhorn Community, then a Rosicrucian preparatory school in northern Scotland. Details of his Findhorn years, as well as his relationship with it founders, are recorded in his unpublished autobiography, Bad Boy! still in the computer, which is in the custody of his son, Bruce Alden.
Just in time for his daughter's wedding in the summer of 1981, he returned to Buffalo where he immediately renewed his old habits of conducting anthroposophical study groups, which resulted in the founding of the Aurora Anthroposophical Members Group of Western New York, as well as The Aurora Waldorf School. He was hesitant, though, about accepting credit as the founder of the school because so many people ultimately became involved in the enterprise, many of whom had their ownconvictions about educating children.
Later, Bruce was president of Market Planning Associates Ltd., a small international business-to-business advertising and public relations agency. Upon his retirement in 1993 he handed over chairmanship of the 25 member group to Jane Reid so he could devote more time to his book Coping With Evil (Lindesfarne Books, 2006) , and the "First Friday," monthly public meetings of his Holoscopy Group, — a new term, described in his book – with presenters discussing a wide variety of spiritual matters. One evening, for example he was debating the editor of Paul Kurz's Skeptical Inquirer magazine when he used homeopathy to illustrate a point he was making. After the debate, a lawyer for the Skeptics threatened to sue him for advocating homeopathy in a public forum! – a lawsuit he would have warmly relished!
Speaking of homeopathy, he made a small discovery in his 90thyear which may help establish that method in the public eye: to treat insomnia, an all-too-common disorder, simply take a sip of coffee in the evening before going to bad but, rather than swallowing it, swish it around in the mouth, gargle with it, and then spit it out. You may find the results astounding. Not official homeopathy, perhaps, but close enough to demonstrate one of its principles, likes cure likes.
Another discovery, this time in the field of mathematics, which had been a life-long hobby of his, solves the 800-year-old question as to how the celebrated Fibonacci Sequence actually begins. Perhaps surprisingly to some, it is thanks to his daily meditation on the Creed of the Christian Community that he was able to discover, by placing the 12 stanzas of the Creed into a U-shaped pattern, that the three commonly used introductions to the Sequence are all incomplete! The Primal Generator must be added so that the corrected series, what he called the Primal Generative Series, becomes 1 – 0 – 1 – 1 – 2 – 3 – 5 – 8 – 13 – +etc. Again, further elaboration of this discovery is to be found in his computer, although he had posted it several times on his Facebook page.
Finally, since we no longer live in those mythopoeic days of yore, when kings and knights as well as their favored ladies, both real and imagined, strode the earth, we are now constrained to create our own legends. How would an Order of Knights, for instance, so necessary today to establish and maintain sanity in an insane world, how would such an order be ordained today without impinging on anybody's freedom? Bruce H McCausland, now deceased, offers the following for your consideration, archaic language and all:
Knights of the Golden Heart
Oath
1) I don the armor of the certitude of knowledge which is daily tested and amended as needed.
2) On my left arm I bear the sacred shield of Study which protects me from all calumny, falsehoods, and villainous lies.
3) In my right hand I wield the mighty sword of Micha'el, 'Veritas,' ever hewing away at untruth, searching for and yielding Eternal Verities which set me free.
4) My vows of Poverty, Chastity, and Obedience are now made anew in the light of Freedom:
Poverty: non-attachment to the goods and chattels entrusted to my care.
Chastity: no imposed abstinence, but Purity of Soul as a goal.
Obedience: not to any outer authority, but to the highest in myself.
5) I pledge my fealty to the Goddess of Human Wisdom, the sublime and serene Anthroposophia, whom I adore and seek to serve.
6) I go forth under the banner of Micha'el, Crown Prince of all the Archangels, and dedicated servant of our Lord Jesus Christ.
7) My enduring quest is nothing less than the Holy Grail.
Be it hereby proclaimed: That thus armed and charged I mount my trusty steed of well-groomed Thinking and set out on this, life's greatest adventure, with the motto:
BE As You Would See!
Obituary for Bruce from Buffalo News
The following finalized obituary for my father Bruce H. McCausland, should appear in the Buffalo News this weekend (either Saturday, July 15th, or Sunday, July 16th. Thank you to everyone who expressed condolences on our loss. Your cards, calls, and messages meant a lot to us. – Bruce (the son)
Jan. 1, 1931 – June 15, 2023
Bruce McCausland had a zeal for finding ways to make life better.
As a student, he organized faith-based groups in local colleges. He went on to work in radio and advertising, opened a health food store, devised a gas-saving accessory for automobiles and joined in starting private schools to encourage creativity in children.
In recent years, he brightened the days of other residents at his assisted living facility by putting together current events discussion groups and a weekly newsletter called "The Geezer Gazette."
He died June 15 in Buffalo Veterans Affairs Medical Center after a brief hospitalization. He was 92.
Born in South Buffalo, Bruce Henderson McCausland was the third child of Walter McCausland, vice president of public relations for the International Railway Corp., which operated Buffalo's trolley lines, and Imogene Robertson McCausland, a notable artist.
He grew up on Buffum Street in a large converted barn on land that was once part of a celery farm operated by his great-grandparents, Allen and Emma Strickler. He attended School 70 and was a 1948 graduate of South Park High School, where he studied German and learned to play trumpet and violin with the school band and orchestra.
He enrolled at the University of Buffalo, where he was president of the Credo Club, a student Christian organization, and president of the Protestant Intercollegiate Council. He also was active in the New York State Student Christian Movement.
In 1950, he enlisted in the Air Force, trained in cryptography and was sent to Germany. He spent three years with the Air Force Security Service at Landsberg Air Base in Bavaria, first as a radio operator, then as an intelligence analyst. His roommate was country singer Johnny Cash.
Returning from service, he completed his bachelor's degree in drama and speech at UB in 1956, did a year of postgraduate study at Syracuse University and came back to Buffalo to become an account executive and announcer at radio station WEBR, where he hosted the overnight show.
After he was married in 1957 to Rhoda LeBoff, a model for department stores and later an advertising executive, he joined the city's largest agency, Comstock Advertising. He went on to be manager of advertising and public relations for Spaulding Fibre Co. and briefly served as advertising manager for Sylvania Electronics in Batavia.
He was active in the Buffalo-Niagara Chapter of the American Marketing Association and co-chaired the Boost Buffalo campaign in 1961 for the Junior Chamber of Commerce. He also was a deacon at First Presbyterian Church, which his family attended, and co-wrote and narrated several of the annual Christmas pageants. He also co-wrote a four-act history of the church for its sesquicentennial pageant in 1962. 
He and his wife separated in 1968 and he moved to Toronto the following year, joining McLaren Advertising, Canada's largest agency, where he handled accounts for Johns Manville, Glidden Paint and Mutual Life of Canada.
A reorganization at McLaren and the discovery of the teachings of Austrian philosopher Rudolf Steiner prompted him to open a bookstore in Toronto, which evolved into a health food store and bookshop. He also became involved with a Waldorf School there, which applied Steiner's holistic approach to education.
In 1978, he sold the business and moved to Scotland, where for three years he worked on computers and was part of the Findhorn Foundation, a New Age community devoted to spiritual growth. He returned to the U.S. for his daughter's wedding in 1981 and came back to Buffalo.
After attending a workshop on high-gas-mileage carburetors, he created what he called a "cyclone stew pot," which he made from a frying pan he bought at the Salvation Army for 65 cents. He told Buffalo News reporter Don O'Hara in 1982 that the device, which attached to the carburetor and vaporized fuel to make combustion more efficient, increased gas mileage 300%.
Before long, he returned to advertising, becoming an account executive with Harold Warner Advertising in 1985, then started his own firm, Market Planning Associates.
He formed study groups on Steiner's teachings, which led to connections with local Waldorf School advocates. He joined with them in establishing a Waldorf School in North Buffalo, now closed, and the Aurora Waldorf School in West Falls, which opened in 1991. He published a book, "Coping with Evil," in 2006 which focused on Steiner's spiritual investigations, and was working on a book on the history of South Buffalo at the time of his death.
A resident of Buffalo's Elmwood Village neighborhood until he moved to Elderwood Assisted Living in West Seneca in 2018, he was active as a lecturer on Steiner and other topics, wrote poetry and participated in poetry readings. At Elderwood, he was president of the residents' association and started the Geezer Gazette during the Covid-19 lockdown to help residents keep connecting with one another.
Survivors include a son, Bruce A.; a daughter, Valerie Sullivan; a brother, Alan; and four grandchildren. A memorial service will be held at 10:30 a.m. Aug. 4 in the First Presbyterian Church, 1 Symphony Circle.
How Bruce Discovered Anthroposophy
A few months before his death, Bruce circulated sections of his autobiography to some of his friends. The following section explains in more detail how he found his way to anthroposophy and had a personal experience of Christ's presence.
Divine Intervention
Normally, it seems, our angels have to stand back and watch us make our own decisions without much more than a prompting here or there when we get too far off track. Occasionally, as in some of the events surrounding somebody's death, they are allowed to intervene more than usual as, for example, arranging that a close friend or relative be at just the right place at the right time to expedite some important element connected to that death.
But there is another time when angels are allowed to intervene in our lives. That is when someone has a special mission to accomplish.
The following narrative is true to the best of my recollection. It concerns a series of mysterious 'coincidences' involved in my introduction to anthroposophy and subsequently, to the Findhorn Community in northern Scotland. I have often been asked how I first came to anthroposophy and, somewhat later, to the Findhorn Community, and have been able to impart only a partial story. Now however, having reviewed all the documents at my disposal, I am able to relate a much fuller and more complete account. It is even more astonishing than I had recalled. If you were part of my life during those magical years discussed in this narrative and find that you are not mentioned, please accept my apologies and also my profound gratitude. For after all, every human encounter is, to one degree or another, an example of Divine Intervention!
Our story starts back in 1968 when, very painfully, I was told by my wife's lawyer that I had to leave her and my two beloved children. The pain was in leaving the children, and knowing at the same time that I could not continue living with my wife. She and I were totally incompatible and, after twelve years, it was obvious to both of us that we had to separate. Yet a scant six weeks later I was to meet the most important, pivotal person in my life, the person who would eventually lead me to anthroposophy.
It was while visiting her girlfriend some months earlier that Ginger, A.K.A. Beverly Holcombe, and she (the girlfriend) decided to experiment with trance mediumship.(A practice, by the way, which anthroposophy does not recommend.) Both had just graduated from the University at Buffalo and, while her friend was now married, Ginger was still searching, while pursuing her part-time career as a go-go dancer. Neither of them had done it before, but for some curious reason they felt the urge to see if the friend could be put into a trance. It worked. During the experiment a mysterious voice, who identified himself simply as 'Ebon', who had not had to incarnate for many thousands of years, had an important message for Ginger. Through the friend, he said that it was extremely important that Ginger be living on Allen Street during the month of August, 1968. To the best of my knowledge, all this happened before I even had any idea that I would have to soon separate from my family. Anyway, another friend soon approached Ginger a while later asking if she could baby-sit her house during the month of August. And yes, you guessed it, the house – or apartment, rather – was on Allen Street, directly across the street from the Blackstone Bar and Grille, one of Buffalo's seedier hippy hangouts of the 60's, which has long since been condemned and closed down.
Up to that point I was anything but a hippy – rather, I considered myself a middle-class advertising executive. Yet, after the painful separation from my kids I felt inexorably drawn to explore the more colorful phenomena of those now legendary times of the 60s.
It didn't take me long to discover the Blackstone Bar and Grille.
I clearly remember walking Ginger home that first night she showed up there – all the way across the street! It was a month-and-a-half after my separation and I was lonely and very depressed. My lifestyle by that time had degenerated to working during the days as a manufacturer's rep, sleeping for a couple of hours, then going out and getting drunk late at night. So it must have been around midnight about the 15th of August when I first met her. Since my days as a college sophomore I had been pretty much of an atheist, or at least an agnostic. I really didn't give it a lot of thought. Life had no meaning, no purpose, no direction; and reincarnation was for me one of the most absurd ideas I had ever heard of.
That first night Ginger showed me some of the illustrations she had been doing in preparation for a children's book she was contemplating. I don't know how to adequately describe what happened next. I was suddenly overcome as I looked over those sketches of castles, dragons, and damsels in distress with a profound certitude that I knew Ginger. I knew her from a far distant past. She was someone who had cared for me, had nurtured me like a loving aunt in a previous life. I was confused, embarrassed as the tears of recognition began to flow, little knowing what a pivotal role she was to play in my life to come.
The Christ Encounter
That year, 1968 and the first half of 1969, despite meeting Ginger, was by all counts the lowest time of my entire life. Without purpose or direction my life was just a meaningless pursuit of alcohol and carnal pleasures, and I was still extremely despondent at having left my children.
One morning the next year – it turned out that it was Good Friday, a day that till then meant nothing to me – I was alone in my bedroom reading a book. I can't even recall what it was, but it was probably some trashy novel. Suddenly I was aware of a Presence in the room at the foot of my bed.
In all honesty I must say that it was not a physical presence, but it was definitely there nonetheless. Powerful, immediate and infinitely loving, He simply gazed at me, or gazed right through me would have been a better way to put it. He saw right through me. He saw my every thought, my every deed. He knew me completely, utterly, with all my flaws and sins and shortcomings. And the most remarkable thing of all was that he still loved me! He loved me with a love which was limitless. He knew me so completely that I'm sure he knew my thoughts even before I had them. How could this be?
How could such love exist? What a wonderful feeling it was to know that I was loved in such a way! My immediate response was simply to bask in that infinite stream of all-knowing, infinite love. But soon, all too soon, I started to look at my failings and shortcomings too. I saw all too clearly my bad habits, my self-centered hedonism, my unworthiness to be in His Presence. I wanted to hide. Of course I couldn't hide from his all-knowing Presence, but I could no longer stand the shame of being in that Presence. So I did the only thing I could do – I asked, I begged him to leave me alone!
Quietly, just as He had come, He departed; leaving me in total freedom.
My entire life since that precious moment has been dedicated to making myself worthy to stand in His Presence once again, but this time without shame and remorse. Painful as it was, I feel infinitely blessed that the returned Christ should have chosen me as one to whom He appeared. It was later that year that I would be introduced to anthroposophy, a most Christian of publicly available paths, which was able to explain to me in clear, scientific terms, the significance of this encounter, and much, much more. What follows next is a brief exposition of my introduction to that spiritual science.
I Encounter Anthroposophy
A few months after my encounter with Christ, Ginger and I were invited to spend a couple of weeks with some friends of hers, Bill and Laura Findlay, in Toronto. Bill is a cellist with the Toronto Symphony and Laura had been a friend of Ginger's during their student days at UB (University of Buffalo). It turns out that both were members of the Anthroposophic Society, so there were quite a few books by Rudolf Steiner in their bookcase.
My questions about who this guy 'Steener' was were met with mostly silence. I couldn't understand why they had such difficulty explaining to me in simple terms who the author of so many of their books was, and what he was trying to say. Then one day, before leaving for work, Bill handed me a book with the comments, "Here, maybe this will help you understand who Rudolf Steiner is." The book was called The Philosophy of Freedom and I read it all that day. I must confess that 'I didn't get it', but I did put it down with a profound respect for Steiner's capacity for clear thinking.
A few months later I bought a copy of Steiner's An Outline of Occult Science. That did it! As I recall, I bought the book simply to impress my friends, to have it on my cocktail table when they came over for a drink. By this time I was an account executive for Canada's largest advertising agency. My responsibility was three accounts: Johns Manville, Mutual Life of Canada, Canada's second largest insurance company, which was about to celebrate its gala centennial, and Glidden Paint. Ginger was involved in getting her own advertising agency going and between us we had a lot of friends who were heavy drinkers. I could just picture some of them seeing Occult Sciences on my table, saying something like, "Gee, Mac, you're into some pretty far-out stuff. Where's the beer?"
That's how shallow my life was up to that point. Then, one day, out of idle curiosity, I picked up that book and started reading it. Within a few short weeks I found myself cancelling all social activities – no more parties – all I wanted to do was get home from work and read that book! Up until that point I had been reading Edgar Cayce, who clearly, or unfortunately, all too often not so clearly, had a great deal to offer; and numerous books on Tibetan Buddhism. But never before had I encountered someone who spoke with such authority about the reality of the spiritual worlds as Rudolf Steiner. I found myself spending hours, sometimes a complete evening, going over and over one small paragraph knowing, perhaps from some higher level, that I wasn't quite 'getting it'. Also, never before had I taken six months to read a single book. Something clearly was changing in my inner nature.
By the time I finished Occult Science, or An Outline of Esoteric Science, as I believe it's now called, the spiritual worlds were a reality for me for the first time in my life; not just some vague abstraction 'out there' somewhere. But I had to put it to the test! Was it all a hoax? If it was a hoax, it was the cleverest hoax I had ever seen. If it was not a hoax, then clearly I would have to devote my life to it. For here, contained within Rudolf Steiner's anthroposophy, if true, were the answers to the most important questions anyone could ask about existence itself: Question like, who are we? Why are we here? What is our purpose here on earth? How can we reconcile the scientific findings of Darwin and others with the teachings of the Bible, and other great, revered sources of the past?
So I found Hill House, headquarters of the Anthroposophical Society of Canada, which was also headquarters of the Steiner Book Centre where all those books were available. I didn't use the library there much in those days because I was in the habit of marking up the books I read with pencil for rapid future reference. I couldn't do that to library books!
Dear Mrs. Grieve, then well in her eighties, would kindly let me in to the low ceilinged basement, where my six foot three inch frame had to stoop in order not to crack my head on the boxed-in heating ducts, as I carefully selected my next purchase. In those days a big book would cost no more than three or four dollars – yet I would easily go through $100 at a time.
All I can give here is just a hint at what I went through in order to determine the authenticity and accuracy of Steiner's spiritual science. Some have been introduced to anthroposophy and immediately recognize it as their path. Others, like the Rev. Rittelmeyer, despite having access to the man himself, still required ten years of intensive testing before fully recognizing Steiner's anthroposophy as authentic. This perhaps because he was already so well established as one of Germany's leading Lutheran theologians. Rittelmeyer, in fact, was the head of what was later to become the World Council of Churches. A third group are simply not ready or willing to make the effort to accept this strange, new science. I found myself in the second category, but for totally different reasons from those of Dr. Rittelmeyer.
In my case it was because of over twenty years of skeptical, totally nihilistic, materialistic thinking.
Briefly stated, my testing of Steiner's spiritual science consisted of the following: does it cohere? Is it internally consistent? This is a difficult test because we're dealing with the infinite realms of the spiritual worlds and, since our languages are designed for the material world, they simply are inadequate to portray spiritual facts. This test is further complicated by Steiner's uncompromising dedication to portraying spiritual phenomena as accurately as possible. This mandate requires that they be approached from different 'angles' or perspectives and, should the reader laps into laziness, they could easily appear as inconsistent statements. A more all-embracing test consisted in examining his statements in the light of what I knew, or thought I knew, to be the standards of truth, beauty and goodness. Not only did Steiner pass this test with flying colors, but I discovered that my own standards of truth, beauty and goodness had to undergo continual refinement and enhancement in the process. The final test was to compare Steiner's statements with those of the Bible itself. Not only the Bible, but also the great religious teachings of all the major traditions. It was in performing this last test that I realized what an utter beginner I was! In studying Steiner's many expositions of the Gospels and other religious works I was ever and again struck with the brilliance of his interpretations. Not only are the results of his spiritual investigations consistent with these ancient, venerable works, but he was able to sweep away many internal inconsistencies and reveal for the first time the true wisdom of these holy texts.
But the purpose of this essay is to illustrate examples of divine intervention, not to promote Steiner's, nor anybody else's works, so we will move on with our examples.