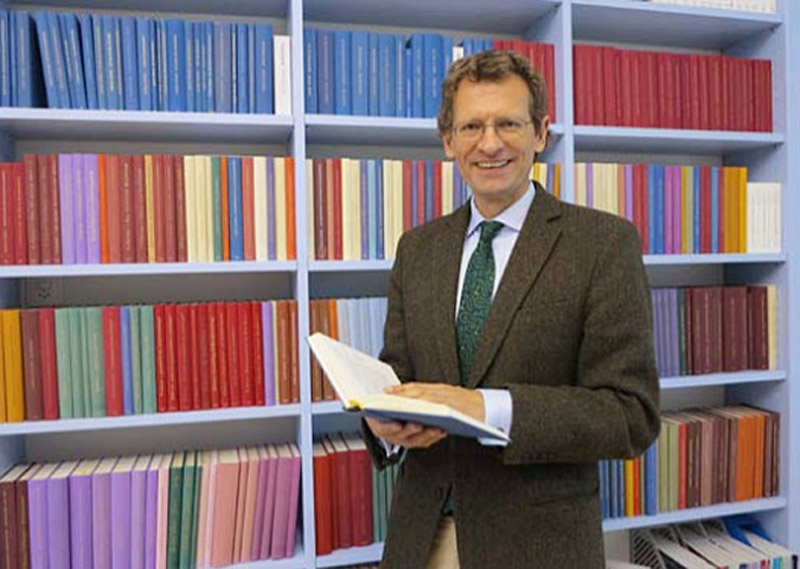 During the third week of the RSCC Summer Festival we will be fortunate to have not only one but now two visiting lecturers from Europe. Earlier we announced that Are Thoresen would be coming from Norway to speak at RSCC on Tuesday July 26th, and now we have just recently received news that David Marc Hoffmann from Switzerland will also be visiting us in Thornhill for a lecture and discussion on the Thursday (July 28th, 7 pm) of the same week. Although you have probably never heard of him before, David Marc Hoffman has been doing important work as director of the Rudolf Steiner Archive in Switzerland.
But unlike Are Thoresen, David is not coming here as part of a cross-continent tour of North America. In fact David will be here in Thornhill, visiting his mother, Verena Hoffmann, who lives just across the field from Rudolf Steiner College Canada at Hesperus Village. Some time ago we learned from Verena that her son worked in the Rudolf Steiner Archives, and so we got in touch with him and asked if he would grace us with a presentation on his work at the Archive the next time he was visiting here. That time has finally rolled around, and here we are, announcing a talk and discussion with David Marc Hoffmann the director of the Rudolf Steiner Archive in Switzerland, to take place at the RSCC Thornhill campus at 7 pm on July 28th. And it's all thanks to Verena Hoffmann, a dear friend of the RSCC, who is a member of the elder community at Hesperus.
As you read through the following paragraph you will see that David's background makes him well qualified to direct the work of the Rudolf Steiner Archive. This is from the material David sent us when we asked him for a bio to use in promoting his talk:
David Marc Hoffmann – Director, Rudolf Steiner Archive – Born 1959, Dr. Phil., MAS, studied German Language and Literature, History and Museology in Basel and Paris. He graduated with a work about Christian Morgenstern, and did his doctorate on the History of the Nietzsche Archive. 1985-95 research associate and editor at the Rudolf Steiner Archive. 1996-2012 editor and publishing director at Schwabe Publishing House in Basel, Switzerland. Curator of exhibitions about Nietzsche, Rudolf Steiner, Jacob Burckhardt and Neo-Humanism in Basel, Zurich and Weimar. Member of the Board of Trustees at the Nietzsche's House Foundation in Sils Maria. President of the General Reading Society, Basel. Since Autumm 2012 he has been Director of the Rudolf Steiner Archive.
The lead photo in this blog post is of David with a few of the many books he deals with in his role as Archive director. The picture below shows some of the people he works with at the Rudolf Steiner Archive.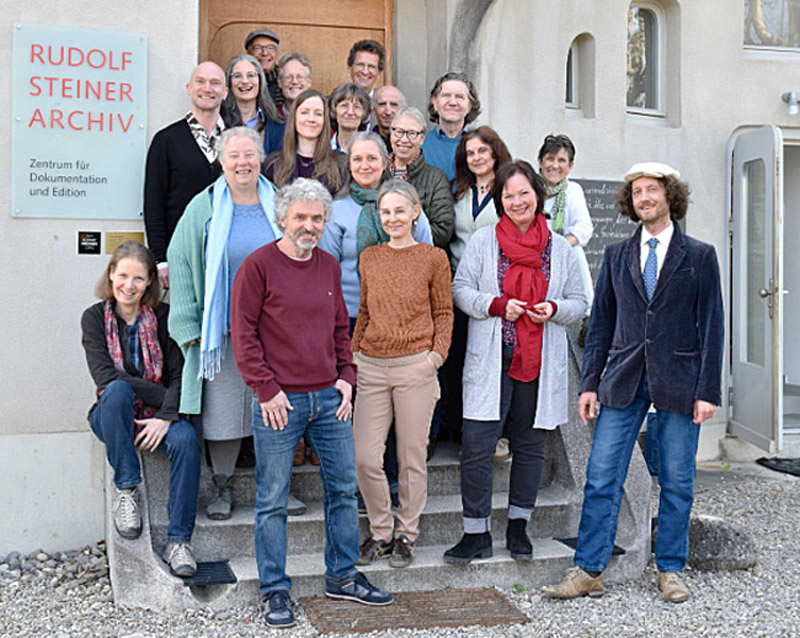 And here's our poster for David's lecture and discussion on Thursday July 28th. This poster can also be found under the events tab on the rscc.ca website.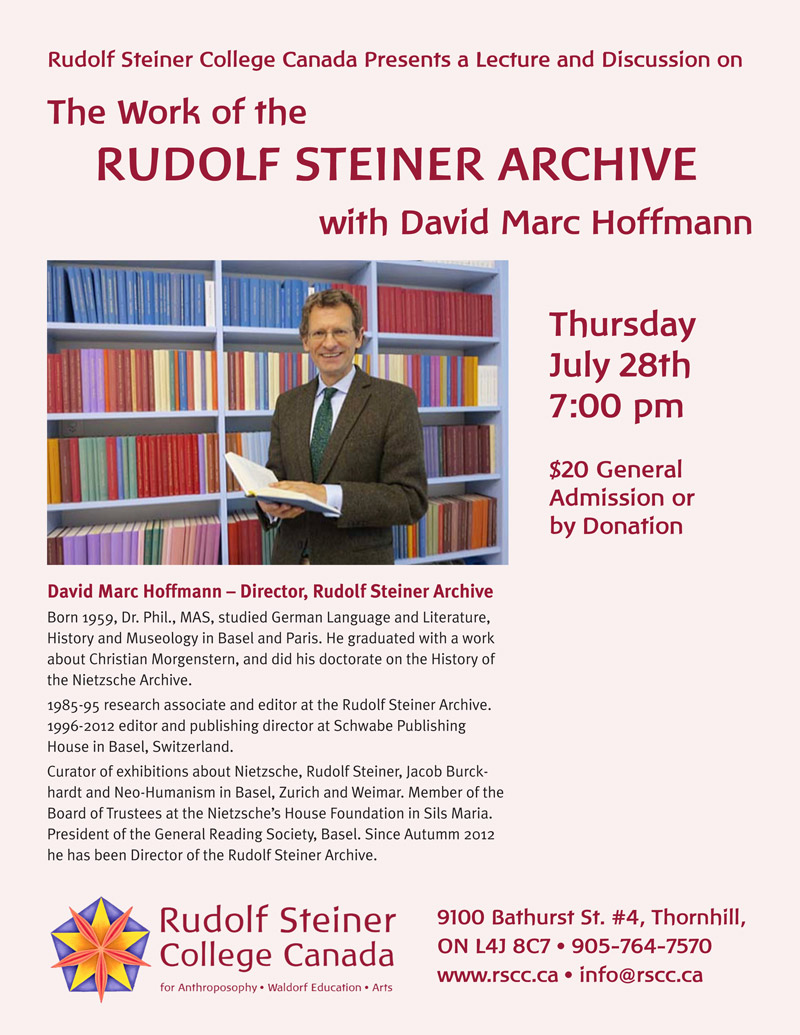 © Copyright 2022 RSCC All Rights Reserved.