Bernd Ruf has dedicated his life to helping children and adolescents affected by trauma, with the aim to turn crisis into an opportunity for growth.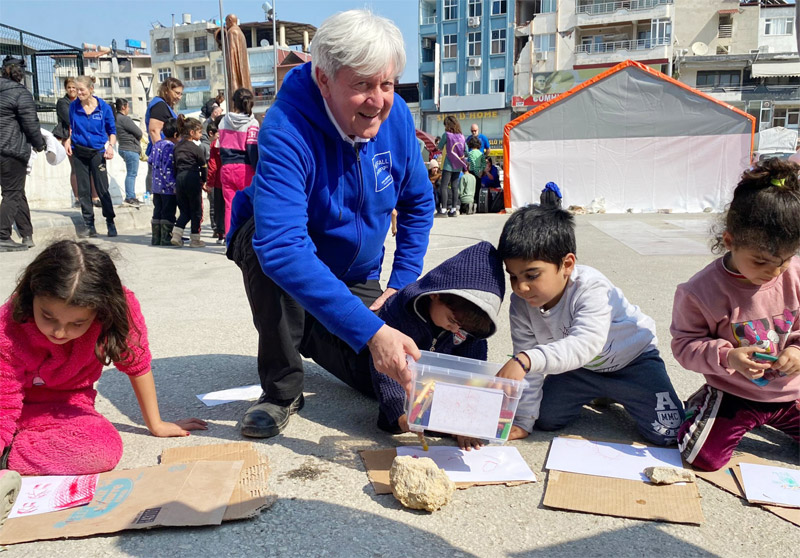 'I do not know if I can help, a single human being does not help,
but only the one who at the right moment joins with many others'.
From Goethe's Fairy Tale of the Green Snake and the Beautiful Lily
Emergency Pedagogy is based on Waldorf education. Since 2006 he and his colleagues have been helping children and adolescents in war zones and places struck by natural disasters around the world such as China, Indonesia, Japan, Gaza, Kyrgyzstan, Iraq, Nepal, Lebanon, Kenya, Ecuador, Chile, the Philippines, Colombia, Brussels, France, Germany, Mexico, Ukraine, Turkey.
Since 2009 Emergency Pedagogy offers training sessions for teachers in many countries around the world. In 2017 the worldwide network "Emergency Pedagogy without Borders"was founded. All teams of participant countries agreed to work out of a common mission statement and the emergency pedagogical concept and guidelines.
Four years ago, an introductory Emergency Pedagogy seminar was held at The Everlasting Tree school in Ohsweken, Ontario. The following day, a second seminar was held at the Waldorf Academy in downtown Toronto. Here, Bernd Ruf introduced concepts of psychotraumatology and shared the origins and methodology of Emergency Pedagogy.
This time Bernd Ruf will work with intergenerational trauma and relevant concepts in the context of the current problems of our society. Don't miss this opportunity to learn from his clear insights and wide experience on trauma and crisis intervention work. We hope to restore the biographies of many children that are being affected by trauma every year. 
Lectures will be complemented by practical workshops.
For more information on the upcoming Emergency Pedagogy Seminar July 2023, please send us an email to emergencypedagogycanada@gmail.com 
For more news on Emergency Pedagogy worldwide visit https://www.freunde-waldorf.de/en/emergency-pedagogy/