Become a Waldorf Teacher Full-Time or Part-Time
Fees for these programs are set to increase May 15th so if you enroll now you will save the 2023 fee increase.
Full-Time
RSCC offers one of the few full-time Waldorf teacher education programs in the English-speaking world. Students in this program specialize in either grades or early childhood Waldorf education. The program runs from September through May, plus three weeks in July. Tuition is $9,800 CAD.
Part-Time
The RSCC part-time Professional Development for Waldorf Teachers is intended for currently practicing Waldorf grades teachers. It involves attending three consecutive Summer Festivals (3 weeks in July) as well as mentoring throughout two years. Tuition for the three-year program is: $5,700 CAD for year 1, $5,700 CAD for year 2, $1,700 CAD for year 3.This program enables you to become qualified as a Waldorf teacher while continuing to teach full time. The next cohort starts in July 2023.

The part time program for early childhood Waldorf teachers has a different schedule and is open to new students every other year. Offerings include a one-year Birth-to-Three program and a two-year Birth-to-Seven program. The next cohort starts in June of 2024.
Accreditation
RSCC Full-time and part-time early childhood Waldorf teacher programs are recognized by the International Association for Steiner Waldorf Early Childhood Education (IASWECE) and by the Waldorf Early Childhood Association of North America (WECAN). Both Full-Time and Part-Time Waldorf teacher education programs at RSCC are recognized by the Association of Waldorf Schools of North America (AWSNA). Both the full-time grades and full-time early childhood programs are approved vocational programs under the Province of Ontario's Private Career Colleges Act of 2005.

Enroll Now to Save the 2023 Tuition Fee Increase Coming May 15th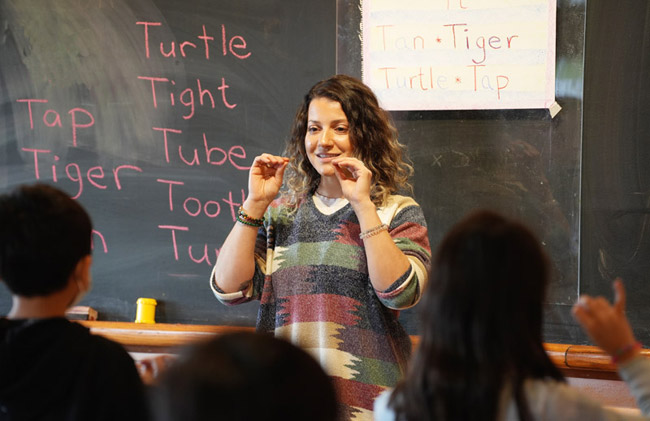 Photo: Gledis is in the RSCC full-time Waldorf teacher education class of 2023. This photo was taken during her practice teaching block at the Toronto Waldorf School in February 2023. She is teaching in the grade two class.