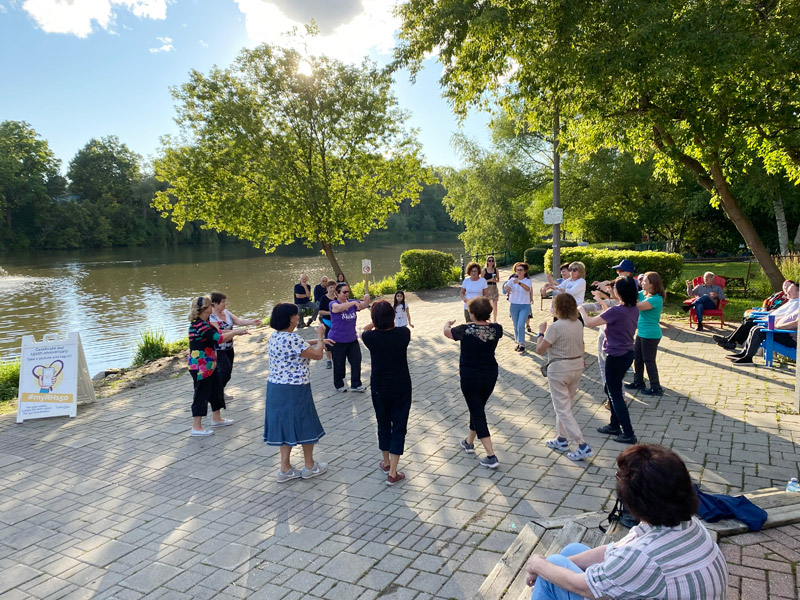 During this year's RSCC Summer Festival, Molly Sullivan, one of the graduating teachers, presented her action research project on Group Dancing for the Developing Child. Towards the end of her presentation she had everyone in the audience up and dancing with her so we could all experience how it felt to move together like that after sitting for so long, listening. In the discussion which followed, it was suggested that there are international folk dancing groups in major cities that teachers could connect with to learn more about folk dances that might be suitable for use in the Waldorf classroom.
In fact, we have a wonderful resource for international folk dancing right here in Richmond Hill in the person of Riki Adivi. For many years now, Riki has led classes and actively promoted folk dancing around Richmond Hill. Before Covid she was leading regular weekly free classes in folk dancing at the Welcome centre which is located in the former Canadian Tire store in the mall on the Northeast corner of 16th Ave and Yonge Street.
Earlier this summer she was leading impromptu Saturday evening sessions at the Mill Pond in Richmond Hill, which she has also done before. The photo above is from one of those sessions this past July. Riki says she will likely be leading folk dancing again at the Mill Pond this September 2023. I asked Riki to share a bit about herself and her history with dance for this blog post. This is what she wrote:
Teaching recreational international folk dancing is the meaning of my life. I believe that folk dancing is doable for everyone and that people do not need to be talented to dance. I also believe that everyone has the right to dance, and that it brings people together.
When we dance and listen to music of different cultures it makes us more open minded and appreciative to other cultures. Today we don't hold hands when we dance, but we used to, and there was a saying in the community that when you dance together and hold hands with people from other nationalities you will not hold guns. And on top of that I would add that if you appreciate other cultures you will not want to occupy their land.
I also believe that folk dancing is very good for us, physically, emotionally and developmentally. With dances of different cultures we are experiencing different rhythms and music patterns, our mind remembers the dance patterns that are connected with certain music (muscle memory). But the main thing is that it brings so much joy.
I had few teachers in my dance classes that took folk dancing into their classes and used to share their experience with me. I wish there were more teachers that could teach kids and adults. If school teachers would like to get some training about teaching folk dancing – I would be very happy to help.
If you would like to be kept updated on Riki's folk dance class offerings, please email her directly at rikiadivi@gmail.com and ask her to add you to her email list.