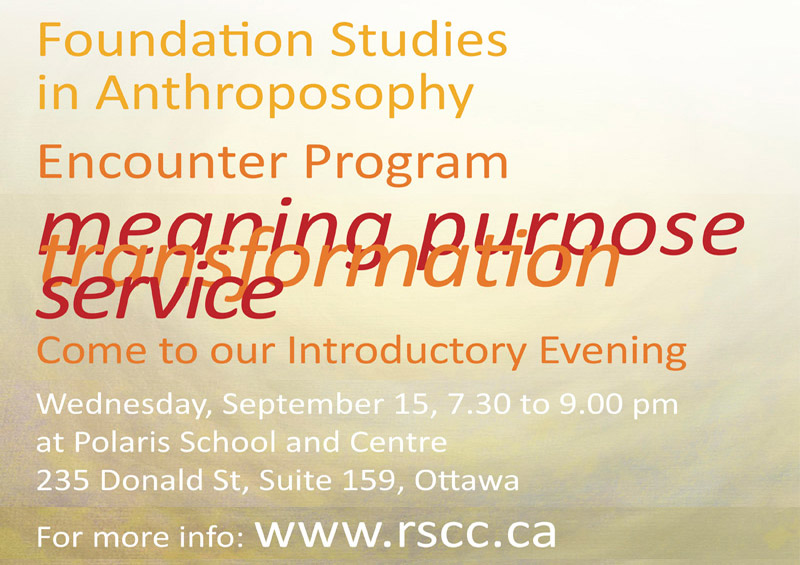 The Foundation Studies Encounter program has been offered regularly in Thornhill on Saturday mornings, and over the years it has also sometimes been offered in downtown Toronto, Halton, and Guelph. A lot depends on whether there are local people in these places willing and able to take it on, and whether there are students willing to enroll once the program is offered.
This year for the first time, RSCC Foundation Studies is being offered in the nation's capital, Ottawa, in cooperation with Sylvie Richard, eurythmist and teacher, and Julie Le Gal Brodeur, an actor trained in the Chekhov technique and Steiner's approach to speech formation. Sylvie and Julie have already put together a full schedule of guest speakers for the year and have announced a free introductory talk as well as dates for the full year program.
The program will run on Saturday mornings from 9:00 am – 1:00 pm for 31 weeks. The free introductory evening will take place on Wed. Sept. 15, 7:30 – 9:00 pm at Polaris School and Centre, 259 Donald St, Suite 159, Ottawa.
Term I: Sept. 25 – Dec. 18, 2021 + Fri. Oct. 1
Term II: Jan. 8 – March 5, 2022 + Fri. Mar. 4
Term III: Mar 26 – June 4, 2022
Included in the program are two weekend conferences, Oct. 1, 2 and Mar. 4, 5. On those dates the times will be Fridays 7:30 – 9:00 pm and Saturdays 2-4 pm.
Workshop facilitators for the Ottawa Foundation Studies program will include the following:
Grant Davis
Raun Griffiths
Brenda Hammond
Alan Krueger
Julie Le Gal Brodeur
Kenneth McAlister
Robert McKay
Timothy Nadelle
Luc Nugent
Sylvie Richard
Foundation Studies Encounter in Thornhill
As usual, there will also be a Foundation Studies Encounter program in Thornhill for 2021-22. Dates have been finalized for that as well. There will be a free introductory evening on Wed., Sept. 15, 7:30 to 9:30 pm at RSCC Thornhill. As in Ottawa, sessions will be from 9 am to 1 pm on Saturdays for 31 weeks. Dates as follows:
Term I: Sept. 25 – Dec. 11, 2021
Term II: Jan. 8 – March 12, 2022
Term III: April 2 – May 28, 2022
Thornhill faculty includes (amongst others):
Grant Davis
Robert McKay
George Ivanoff
Diana Hughes
James Brian
Reg Down
Jan Patterson
Dorothy LeBaron
Fiona Hughes
Siobhan Hughes
Maybe in Guelph
There could also be a possibility of having a Foundation Studies Encounter program in Guelph starting this fall. However, details for that are still being worked out. We hope to be able to confirm that later this month. Check the Foundation Studies Encounter page on the RSCC website for the latest news and updates on Foundation Studies program offerings.
Then There's the Foundation Studies Distance Program
We should maybe also note that for those people wishing to take Foundation Studies but who don't live near any of the places where the Encounter program is being offered, the RSCC does also offer a mentored Foundation Studies Distance program which can be started at any time, and completed at your own pace.
© Copyright 2021 RSCC All Rights Reserved.