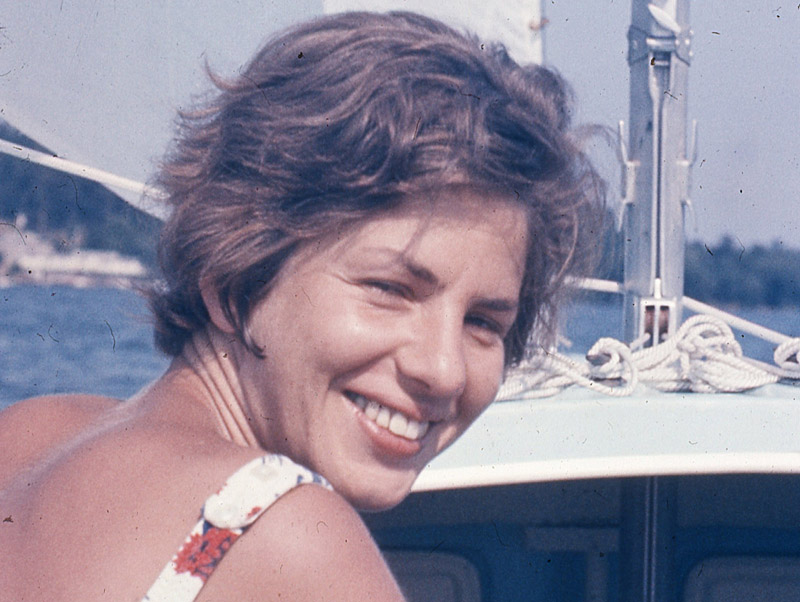 Since the early 1970s Helga Rudolph has been a pillar of Waldorf in this part of the world. We consider her a friend of our work here at Rudolf Steiner College Canada and wanted, in some small way, to honour her crossing of the threshold last week. We are reprinting below an edited version of the Rev. Susan Locey's eulogy from her funeral. We are also including images of photo boards created by her son Thomas Dannenberg for her funeral at the Christian Community on Monday October 25th.
Helga Krause Rudolph was born in Hamburg in the north of Germany on November 23, 1937, during the depression, between the world wars. She was the second of three children. Her older brother Helmut was very gifted and clearly destined to study and take up a profession. Her younger sister Heidi had health problems with frequent ear infections. Helga was a beautiful, charming girl with curly blonde hair and big blue eyes.
Many nights in her early childhood during the war were spent cowering on top of potato sacks in an improvised bomb shelter in the raw earth coal cellar. It was terrifying, and the sounds of sirens haunted Helga all her life.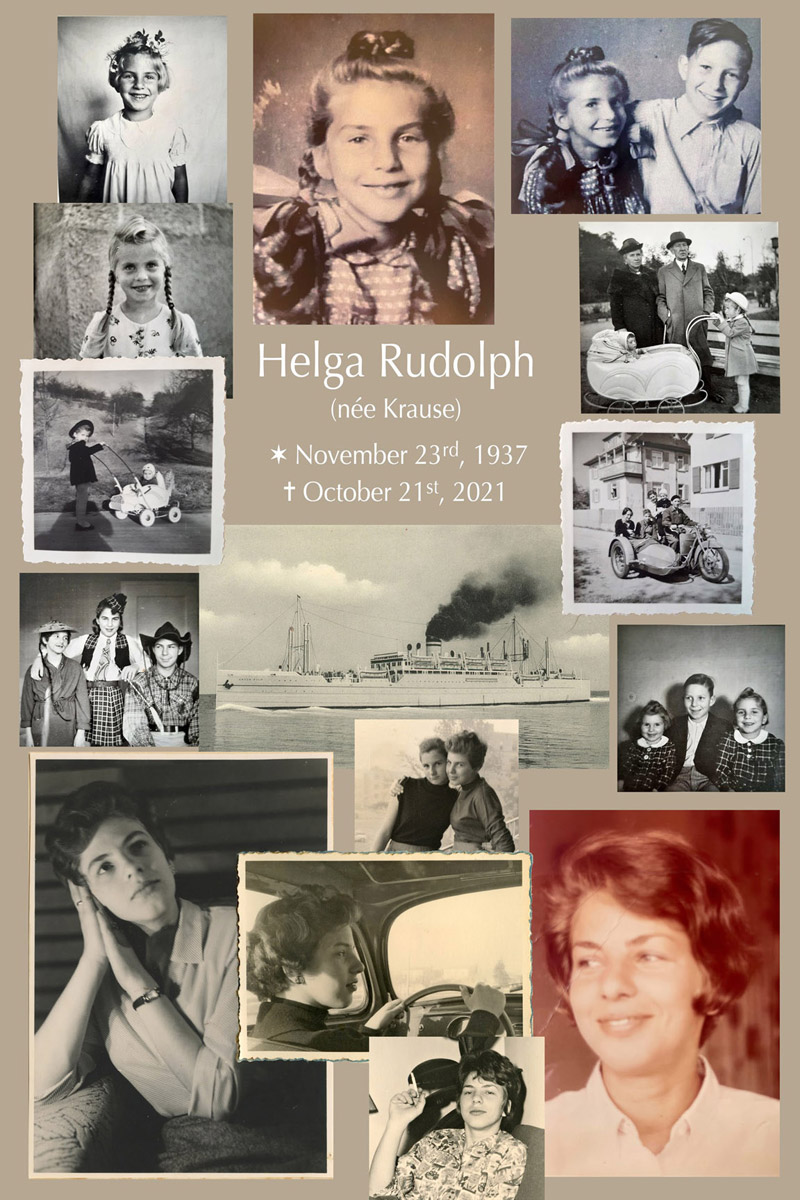 Family resources were scarce before, during and after the second world war. Their father was in the navy and then a prisoner of war in France until 1947. The mother had all she could do to manage the family. When she found work cleaning fish in a factory, the children were left to cope on their own. When the father finally came home, he was unable to find work as all the jobs had been taken by men returning returning before him. The father finally found work in another city, and was not home very much.
The upbringing was tough and strict, and the children were encouraged to go out all day and join with other children. There were many adventures and strife, and Helga learned to be feisty and fend for herself within the roving "gang" of children. Summers were spent scrounging harvested fields, collecting nuts in the forest, and desperately searching for more to eat. Winter days were often spent shivering in bed because there was no coal or wood to heat the stove. When Helga was 10 and Heidi 6, they were sent with other malnourished girls to a convent to "fatten up." There Helga was fiercely protective of Heidi and became a great fighter! But she respected the nuns!
In 1952 Helga's father decided to emigrate to Canada, so he and Helmut went ahead of the family to sort things out. The girls had to quit school and stayed with relatives in Hamburg, while their mother packed up. All Helga's friends—from the Waldorf School, the Christian Community, and the Red Falcons Socialist Youth Group — were left behind in Tübingen. In Hamburg Helga was sent to work as a domestic help, and she was very unhappy.
Finally, in 1954, Helga, Heidi and their mother sailed to Canada on an Italian emigrant ship. Once landed in Ontario, first in Guelph, then in Toronto and finally in Peterborough — 17-year old Helga was sent again to work as a maid, to learn English along with humility and to "improve her character!" She had not finished high school! Helga soon moved to High Park where she shared a flat with Helmut. Her whole short, troubled childhood left her with many scars, especially painful fears of neglect and abandonment. The true strength of her character revealed itself in her determination to find ways to prepare a better future, not only for herself but for the world, little by little, one stitch at a time!
Helmut had found his way to the Christian Community in Toronto, and took Helga with him. She volunteered to be a server in the Act of Consecration. Enter Gerhard Rudolph! He later described he thought he was seeing an angel when Helga came out of the vestry to light the candles on the altar. Gerhard nearly fell out of his chair—and he fell in love!
We can imagine the imprinting of this destiny moment as setting a course for their relationship. She was SERVING—and carrying the LIGHT and warmth! This was a role she continued during their marriage.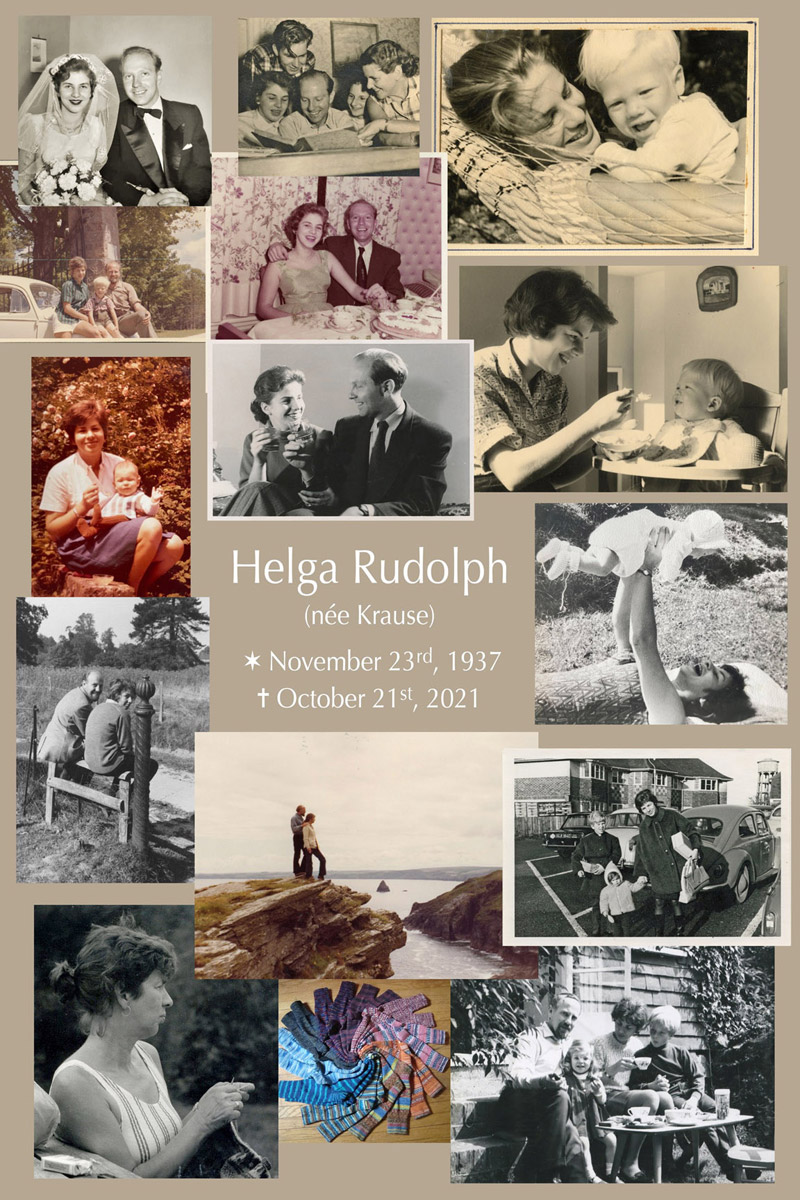 Gerhard taught Helga how to drive a car. They had many lively conversations as they cultivated their friendship and romance. They also shared their ideals and hopes and dreams. Having both suffered greatly in the war, they wanted fervently to be part of building a future without war. They wanted children to be able to grow up happy and able to fulfill their dreams.
Gerhard was a successful civil engineer in Etobicoke. He was 13 years older than Helga. She went back to high school in Peterborough and was admired by her classmates for her smart, outspoken participation in classes, but life experience had been her main teacher, and she had more mature interests than her classmates. She wanted to marry Gerhard Rudolph!
They married when she was 18, and moved to a lovely bungalow in Etobicoke with a garden. Romance, culture and a dream life marked the beginning of their marriage, with Gerhard going to work every day to build bridges, many of which had been damaged in Hurricane Hazel in 1954. After a few years Thomas was born and transformed the happy couple into a happy family.
The Cuban missile crisis, with the danger of impending nuclear war, shocked Gerhard, who also had deep scars of memories from the war, and he scooped up the family into the car and began driving north. Anywhere… to be able to escape the danger of impending war. They returned home when it was clear the crisis was over, but it shook up Gerhard, who began to question the meaning of living just to enjoy life.
A series of miscarriages also cast a shadow over their bliss, and when Francis Edmunds came to Toronto and gave an inspiring talk about Waldorf education, Gerhard and Helga "felt the call!" They prepared to go to Emerson College in Forest Row. The house and all their belongings were sold, and they went to England! Gerhard had always wanted to be a teacher but was not allowed into that profession in Germany, because he had been an officer in the war. To teach children and give them the means and inner freedom to create a new world was a deliriously promising path for Gerhard.
Helga was also inspired, and she enjoyed the international student life on campus. She loved English literature and history, and she became very interested in fibre arts. Just as she was beginning a fibre arts apprenticeship, she realized she was expecting another child. This was a "crossroads moment"—if she had known then what she later learned, she could have continued this satisfying apprenticeship and gotten help with child care. But instead she quit the fibre arts program, and accepted her fate as a mother. Maybe the sacrifice left some resentment, but the moment it seemed the pregnancy was miscarrying, Helga's whole heart and soul said "no," and she said "yes" to the joyous arrival of Katja.
Gerhard was offered a position of class teacher at Michael Hall and devoted himself to preparing lessons. He was gifted and well-liked, and he pored over his lessons. Meanwhile, Helga poured herself into the family. To augment their income, Helga developed a business of knitting for others, who admired her gorgeous sweaters and the knitted toys she made for the children. She was incredibly creative, imaginative and artistic.
Gerhard and Helga did not forget Toronto! They had tentatively promised to return once the Toronto Waldorf School had begun, and in 1973 they moved back. Gerhard became a class teacher, Helga became the handwork teacher, and she famously created a whole generation of knitters. Teaching by the motto "anything worth doing is worth doing well," she kept strict discipline and tamed not only knots and holes, but children's self-discipline as well. Let us indulge the vision of the future army of archangel Michael knitting socks!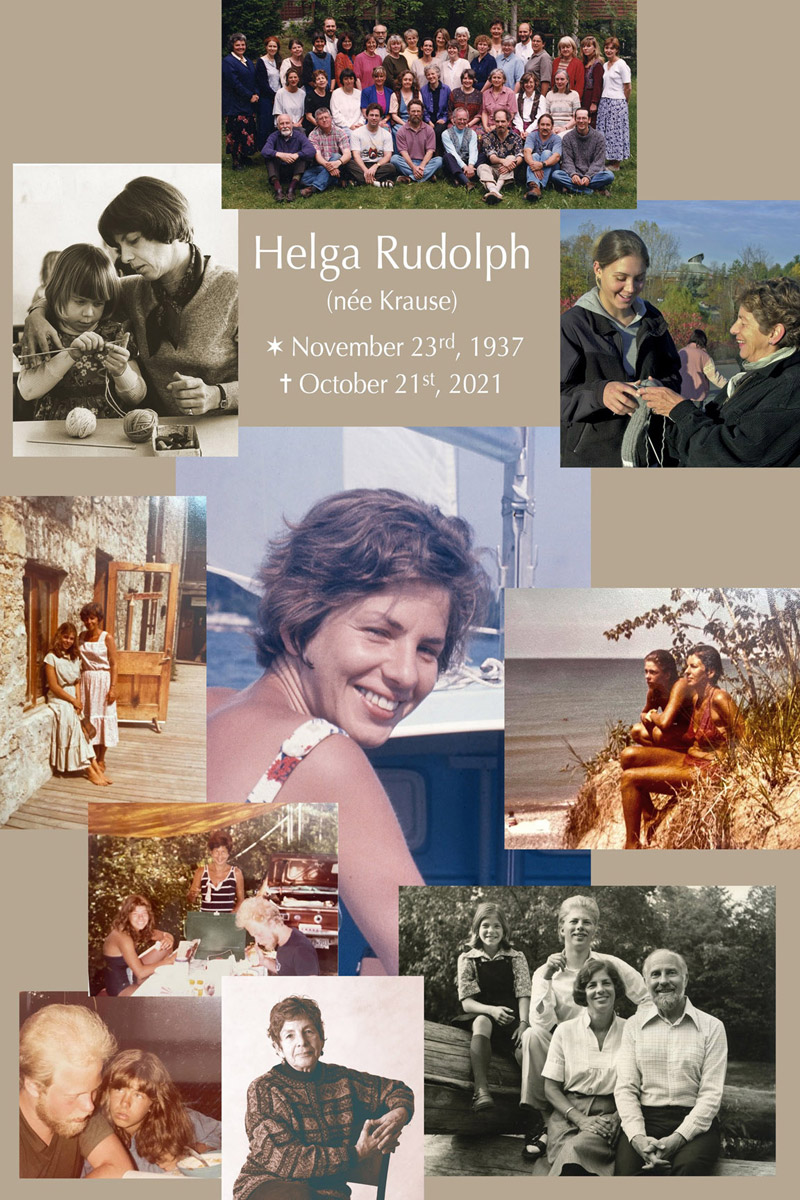 For many years Helga lived as "the wife of Mr. Rudolph," but more and more she developed her skills into leadership abilities. Gerhard later said he was becoming known as "the husband of Mrs. Rudolph!" Helga was practical, down-to-earth, and had a strong sense of right and wrong. She could be outspoken, but she could listen and bring discipline into decision-making. All the skills from fibre arts found a new purpose in the way Helga wove together diversions and differences in board meetings!
Helga knew how to enjoy life! Home life was rich with ambiance, ritual, gratitude and adventures. She also went on holidays by herself to visit sister Heidi in Switzerland, earning the flights by the industry of her knitting skills.
Helga and Gerhard were sorely tested in old age. They were not spared hardening tendencies, fundamental differences in their vision of what the world needs, and declining health. Helga was losing the threads of thoughts, needing more and more support. She was lovingly helped by Thomas and Katja, and by friends at Hesperus and the Christian Community. Suffering a severe brain bleed, she spent her last days in a palliative care hospital, mostly unable to speak, but her hands spoke for her! They searched for Thomas and Katja's hands to hold. Her hands remained warm and strong, full of love. One of the last words she said to Thomas was taken from the Norns: "Scissors!" She was ready to cut the thread!
Updated Oct. 30 with corrections from Heidi, via Thomas Dannenberg.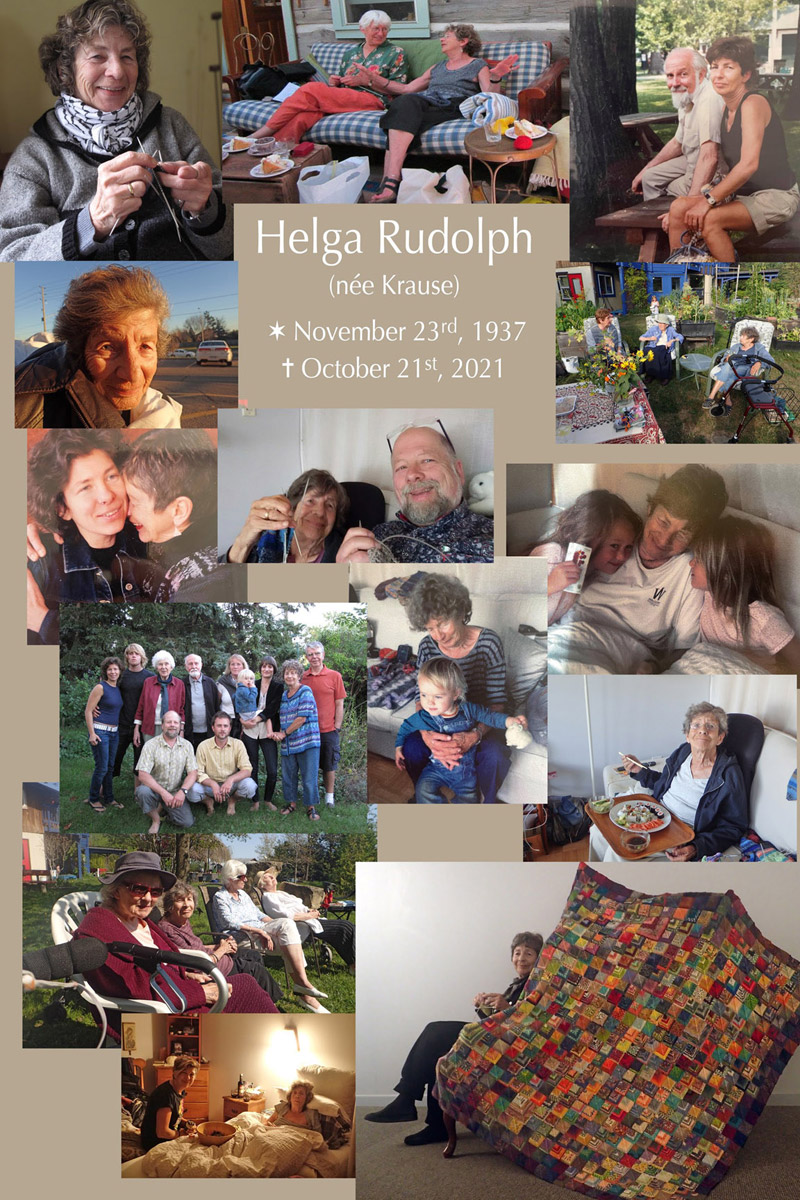 Update Dec 9, 2021: Helga's son Thomas Dannenberg has now created a memorial website for his mother, which includes a more detailed biography of Helga. You can find it here: https://helgarudolphinmemoriam.wordpress.com/
© Copyright 2021 RSCC. All Rights Reserved.