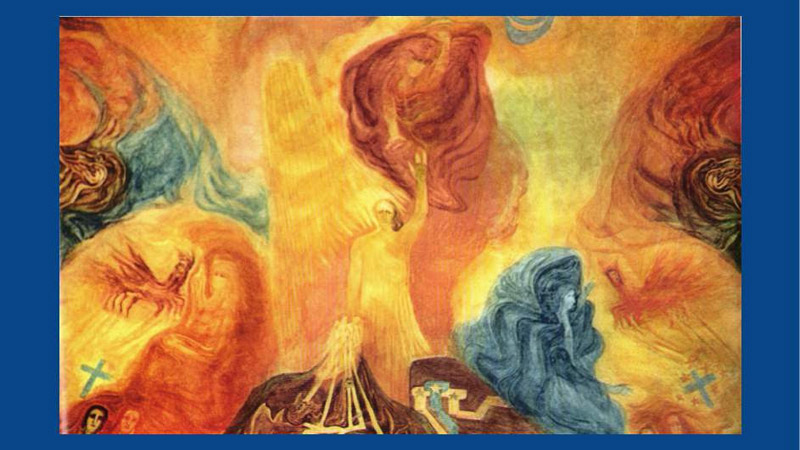 We'd like to highlight a couple of Zoom events this weekend from the worldwide anthroposophical movement. This Saturday Nov. 13th we have a lecture by the director of the Christian Community seminary in Stuttgart which will be simultaneously translated into English, Italian and Portugese, translated from his native Spanish. From what we're hearing, Mariano Kasanetz (the Seminary director) is very good at speaking about spiritual matters using accessible language.
And on Sunday Nov. 14th Mystech is presenting part one of a two-part series on computers, what they can and can't do. Mystech is a anthroposophical group dedicated to exploring the intersection between spirituality and technology, based in the United States. Details on that event can be found in the second part of this post.
The links below are for the Nov. 13th lecture, and below those is some info about the Mystech session.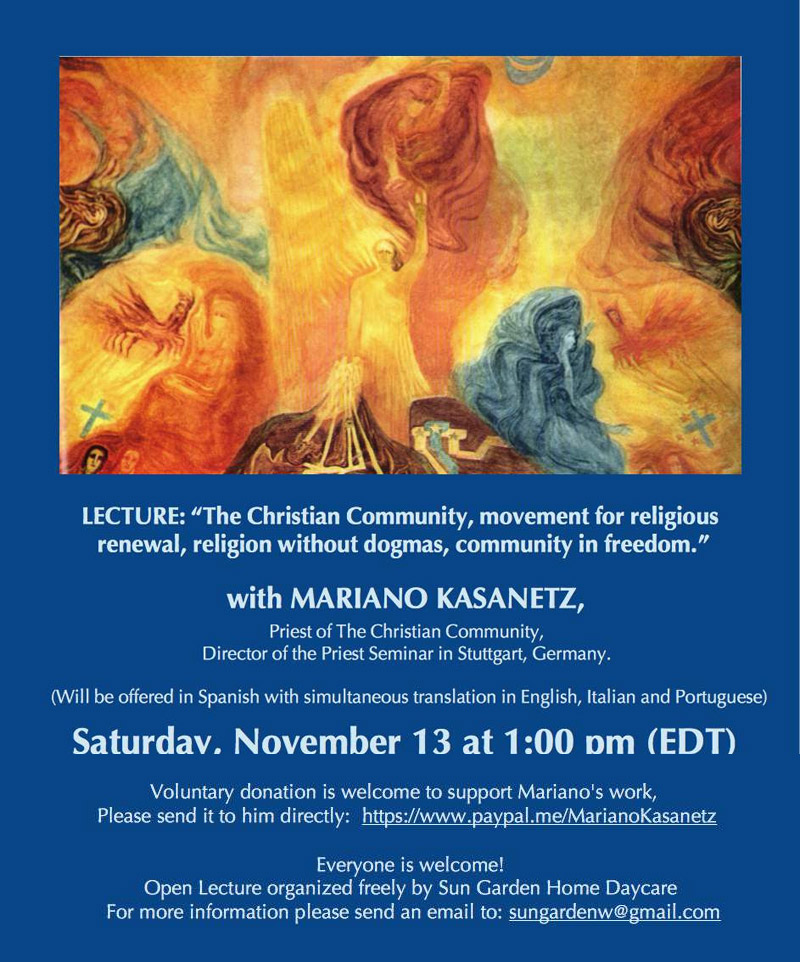 LECTURE: "The Christian Community, movement for religious renewal, Religion without dogmas, community in freedom" – With MARIANO KASANETZ
Time: Nov 13, 2021 01:00 PM Eastern Time (US and Canada) (Please see below the time in other countries)
Join Zoom Meeting
https://us02web.zoom.us/j/83507263142?pwd=cXoyY284bUJyby9mdVd5WmVvM0VMZz09
Meeting ID: 835 0726 3142
Passcode: 0112358
To join by phone call, dial by your location, please find your local number in this link:
https://us02web.zoom.us/u/kedbRgOgBV
TIME IN OTHER COUNTRIES
8:00 am USA – Hawaii (HST)
10:00 am USA and Canada (PDT)
11:00 am USA and Canada (MDT y MST)
12:00 pm Mexico, San Salvador, Costa Rica, Usa and Canada (CDT)
1:00 pm Peru, Ecuador, Colombia, Panama, USA and Canada (EDT)
2:00pm Venezuela
3:00 pm Chile, Argentina, Brasil (São Paulo), Paraguay, Uruguay
6:00 pm UK, Irland
7:00 pm Spain, Germany
5:00 am (Noviembre 14) Australia
7:00 am (Noviembre 14) New Zealand
Voluntary donation is welcome to support Mariano's work, you could send it to him directly any time using this link:
https://www.paypal.me/MarianoKasanetz
For more information, please sent an email to: sungardenw@gmail.com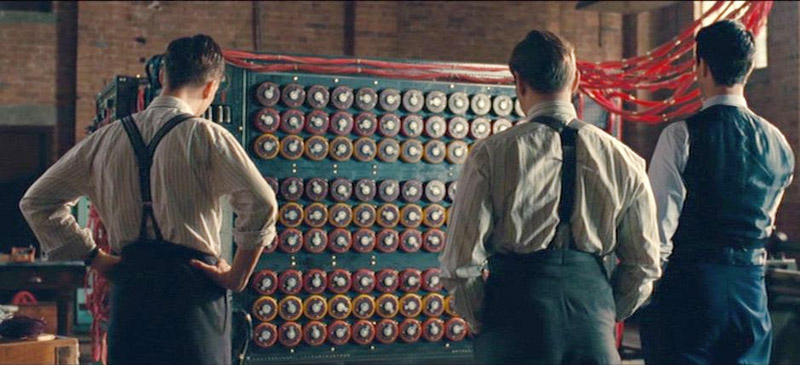 The Turing Machine – What Computers Can and Cannot Do
A Two Part Webinar Series Starting this coming Sunday, Nov. 14 at 7:30 pm Eastern Time
Please join MysTech and our guest speaker Valdemar W. Setzer as we explore the following questions in this two part webinar series:
Can machines think and be intelligent? We have the Turing Test and its extensions – is this adequate? Can machines ever have sensations and feelings? How can something non-physical act physically without violating physical laws? Is the human being a machine?
Prof. Val Setzer will try to answer these questions by exploring the Turing Machine, the Decidability Problem, and the Halting Problem. He will lead us to the issues of the "singularity", man-machine symbiosis, and transhumanism.
THIS IS A 2 PART WEBINAR:
Nov. 14: The Turing Machine and what computers can and cannot do. Overcoming our fears.
Jan. 9, 2022: AI: Artificial Intelligence or Automated Imbecility? Can machines think and feel?
For More Info & To Signup https://go.mystech.org/The-Turing-Machine
About the Speaker
Valdemar W. Setzer is a retired professor of computer science at the University of São Paulo. He is a member of the São Paulo State Academy of Sciences and has been a member of the Anthroposophic Society in Brazil since 1970, and a member of the School of Spiritual Science since 1980. He has published 18 books on technical, educational and philosophical subjects, in Brazil, England, Germany and the USA. He is an active lecturer, having given 597 public lectures to-date since Aug. 1999.
And then also on Nov. 13th, 12 noon to 2 pm, there's the RSCC's Diversity, Equity and Inclusion Followup Session #6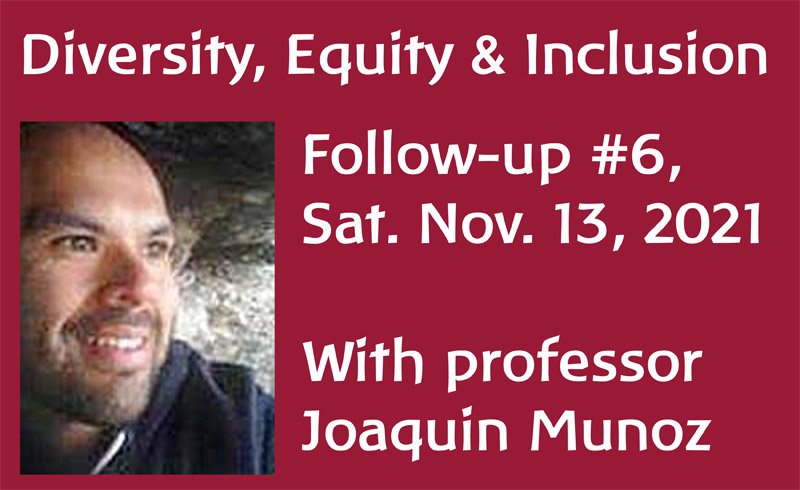 Rudolf Steiner College Canada is inviting you to the sixth of our monthly follow-up DEI Zoom sessions. These sessions have provided an opportunity for continuing the discussions on themes around diversity, equity and inclusion, that were first raised at the RSCT Waldorf Development Conference in November 2020. This will be the final session of this year as Joaquin Munoz is moving to take up a new position at the University of British Columbia.
Session #6 will take place Saturday, November 13, 2021 from12:00 to 2:00 PM Eastern Time. this session will explore aspects of Cultural Appropriation and Appreciation, and will offer an approach to engaging discussions and teaching of Indigeneity.
Dr. Joaquin Munoz, from the Pasua Yaqui tribe in Arizona, is Assistant Professor of Education at Augsburg University in Minneapolis, Minnesota. His focus is on Teacher Education and Preparation, Culturally Relevant Pedagogy/Culturally Responsive Schooling and Waldorf Education/Waldorf-inspired Education. His Ph.D. thesis is entitled "The Circle of Mind and Heart: Integrating Waldorf Education, Indigenous Epistemologies and Critical Pedagogy", 2016. Dr. Munoz writes "My life changed in 2013, upon being introduced to the amazing community of Waldorf teachers, instructors and families."