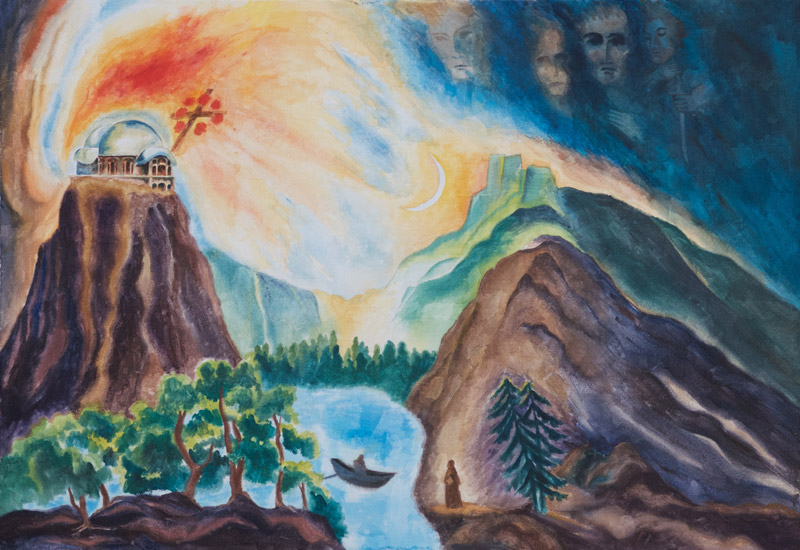 Update Feb. 7th, 2022: Course is now fully enrolled.
You are cordially invited to participate in a guided three month online (Zoom) course of study and practice on the anthroposophical meditative path. This online, participatory group-learning process is designed for people who are interested in developing toward the disciplined clairvoyance required to conduct research in the soul and spiritual worlds. The course will be of use to both individuals who are new to anthroposophical meditation and to those already engaged in an anthroposophical meditative practice.
The course will cover most of the content provided by Dr. Rudolf Steiner regarding the anthroposophical path with selected readings from several texts. It will clarify the foundation practices and disciplines required to undertake the ascent to spiritual consciousness, the details of which are as diverse as our individual natures. It will include a practical introduction to most of the key anthroposophical exercises and many of the mantras that are available to the general public.
By the end of the process, you will have a deeper understanding of how anthroposophical meditation changes a person, how to proceed safely into expanded forms of consciousness, and how to develop a meditative regimen suited to your unique personality.
The course group will consist of no more than 12 people and will meet for 12 consecutive weeks for an hour. In order for the group to function best, it is important that participants make a commitment to attend each session. Please consider if you can realistically commit to participating in most, if not all, of the 12 weekly sessions.
Each session will include a brief lecture component, a discussion component, and practical work with one or more meditative exercises. Between group sessions, during the week, participants will be asked to practice exercises of their choosing and come ready to discuss their experiences at the next session. Actual practice is important as often the instructions for an exercise can only be truly understood by trying it out several times.
This three month course is offered free to participants. If possible, I would ask you consider making a contribution to support Anthroposophy in Toronto (AIT). This new organization is dedicated to bringing the healing and transformative resources of anthroposophy to the people of the Greater Toronto Area. Using a variety of methods, AIT aims to provide everyone in the GTA with the chance to meet anthroposophy in a living way.
Please consider a contribution of $100 CDN, but please note, regardless of any possible contribution, all are most welcome to participate. Cheques can be send to Anthroposophy in Toronto, 42 Cardiff Road, Toronto, Ontario, M4P 2N9, Canada. Alternately, etransfers can be sent to robertmckay@rogers.com and I will deposit the funds into the A.I.T. account. No funds will be kept by me for personal use.
Following the course, should participants be interested, I would be happy to support you in your meditative path through scheduled discussions every three months or so for a few years. This support is also a free offering. While climbing the path requires intensive individual commitment, it can be helpful to discuss how the work is going from time to time with a colleague.
At present, three separate times are offered – please note times are Eastern Standard Time:
Sunday from 10 am to 11 am EST – for 12 Sundays (February 20, 27; March 6, 13, 20, 27; April 3, 10, 17, 24; May 1, 8)
Sunday from 3 pm to 4 pm EST – for 12 Sundays (February 20, 27; March 6, 13, 20, 27; April 3, 10, 17, 24; May 1, 8)
Sunday from 4 pm to 5 pm EST – for 12 Sundays (February 20, 27; March 6, 13, 20, 27; April 3, 10, 17, 24; May 1, 8)
If you are interested in registering, please email me at robertmckay@rogers.com or phone me at (647) 981-6298 and let me know which of the time slots is best for you. If none of these times work but you are interested in the course, please let me know as I will try to offer the course again later in the year in different time slots. Please feel free to share this with anyone you think might be interested.
Lead image is a copy of the design based on Rudolf Steiner's indications for the curtains at the performance of his mystery dramas. This copy was made by Julian Mulock for use at the 2017 performance of the Portal of Initiation mystery drama in Thornhill.