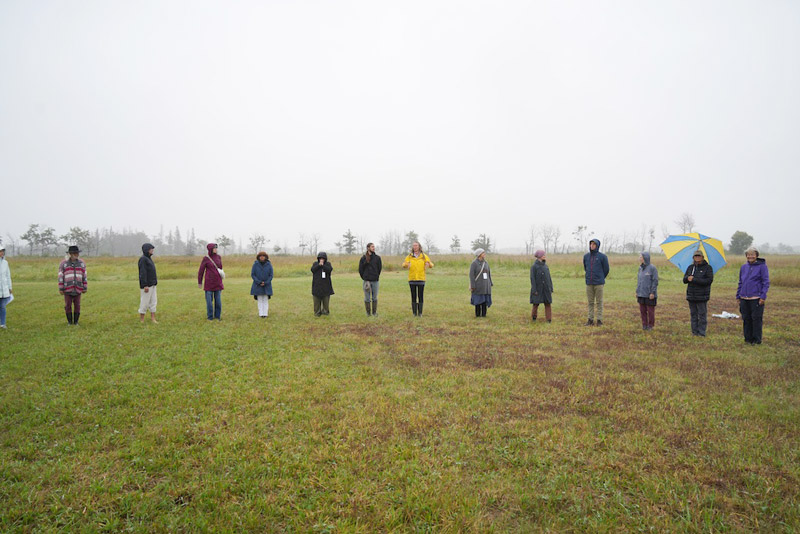 Thanks to Regine Kurek for allowing us to share this personal perspective on last month's Anthroposophical Society festival which was held August 10-16 near the tiny hamlet of Gimli, about an hour north of Winnipeg Manitoba. Regine's most recent contribution to the Rudolf Steiner College Canada has been as teacher of a Summer Festival course in biography this past July. She also teaches painting and sculpture at the Seminary of the Christian Community in North America and at her own art school, Arscura.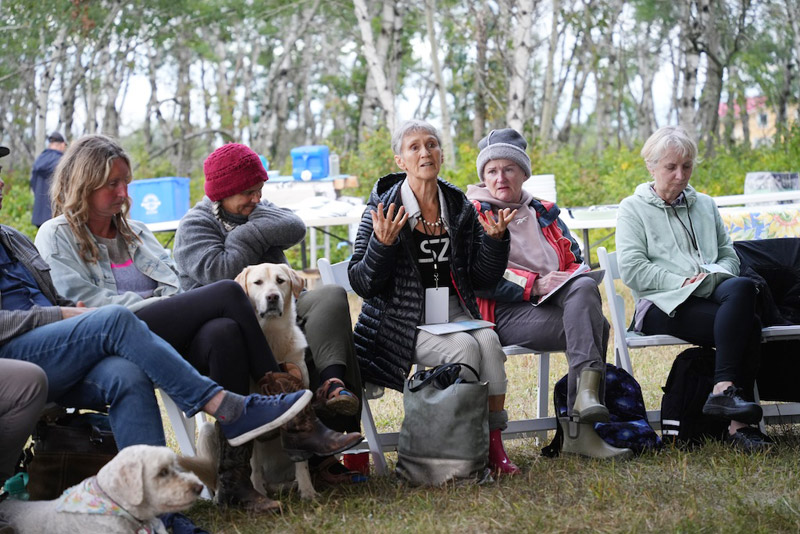 A GOETHEANUM IN THE WEST?
It may sound presumptuous to choose the above title for this short and humble reflection of some aspects of the 4th National Conference of the Canadian Anthroposophical Society, named THAT GOOD MAY BECOME – A Festival of Initiative.
About sixty or so people had come from many places, across Canada, the United States and several European countries including two members of the Executive council in Dornach Switzerland.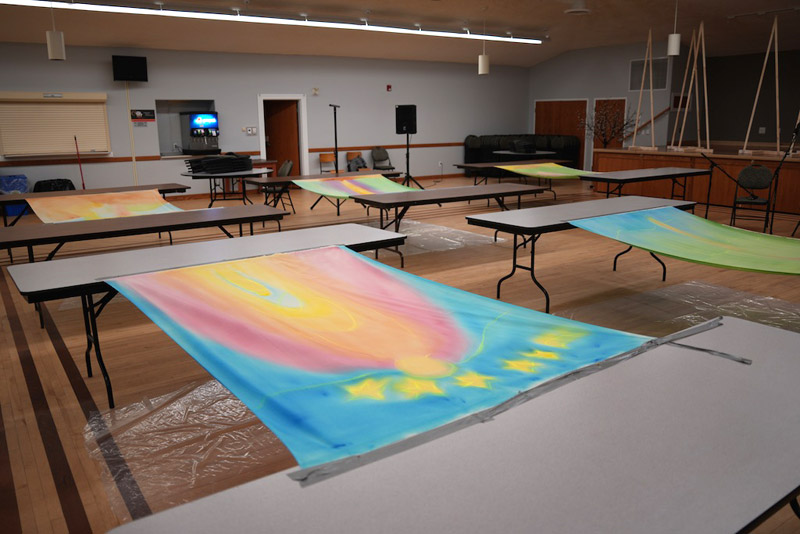 A Festival of Initiative
We all create. We all take initiative all the time! As we live our lives and go about our tasks, we make decisions, take actions or abandon certain plans. There are tasks we choose and initiate ourselves, others we are asked to take up or we get invited to participate. Many more people could have been there, so what brought those who came, together in the end? Not a question that can be answered easily but became part of the sharing in the 'listening groups'.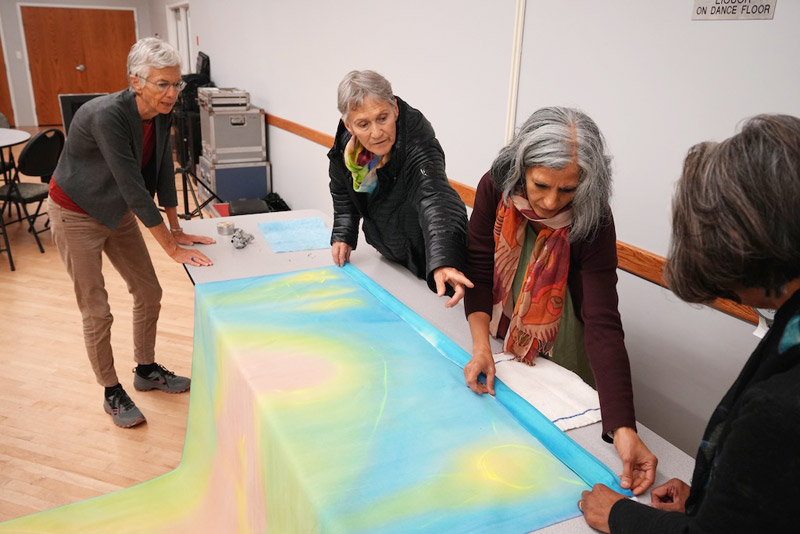 To create a stage setting for the evening performances was one of the initiatives I was invited to take on and said yes to. From the beginning I knew I could not do this on my own and asked various colleagues and Arscura friends to join me. Three said yes and made up our core group of initially four creatives.
How do I take the initiative, follow the call, whether self-chosen or invited, to do something, to go somewhere? We hear and read about so many events these days and I often feel attracted to this and the other, some intentions I follow through with, others fall away, or I even forget!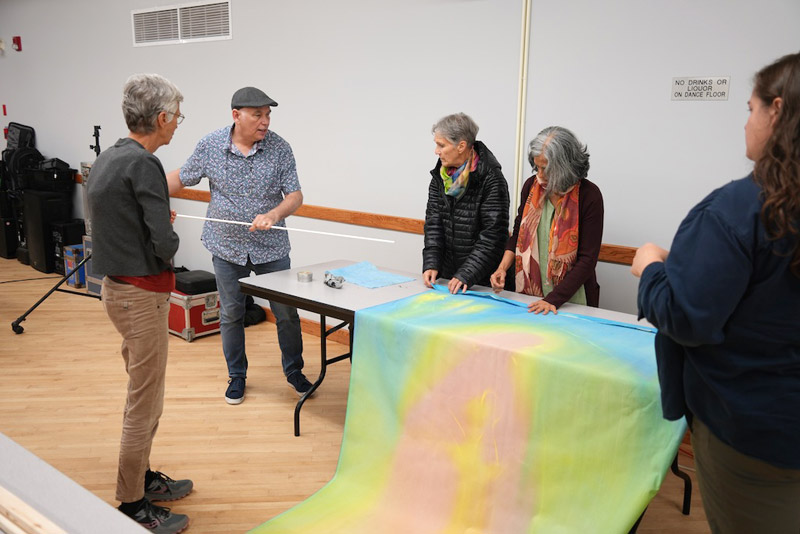 Hearing about the planned Manitoba Festival of Initiative right away awakened a 'yes', a call to go! "Why not, of course I must go! This being the fourth of its kind in the Canadian history of the Society and I have been present at all others, so, no question I'll go!"
Then when I heard nothing more for a long time, it faded into the background until a question came to me and now an inner battle was fought: To be on the land with no fancy this or that? To create out of nothing-ness a stage set. "Not sure, not up for packing all kinds of materials and take them on an airplane!" Serendipitously, I stumbled into an exhibition at a local gallery and saw painted banners by a young artist who during Covid had escaped to Algonquin Park sketching trees that were dying or suffering from illnesses and then transferred these images to cotton banners. They were displayed hanging in a loose composition in the space so when you entered you walked like into a forest, encountering these ailing trees. Yet, what beauty shone through this!! Healing through art, through the creative process, was my immediate reaction and experience!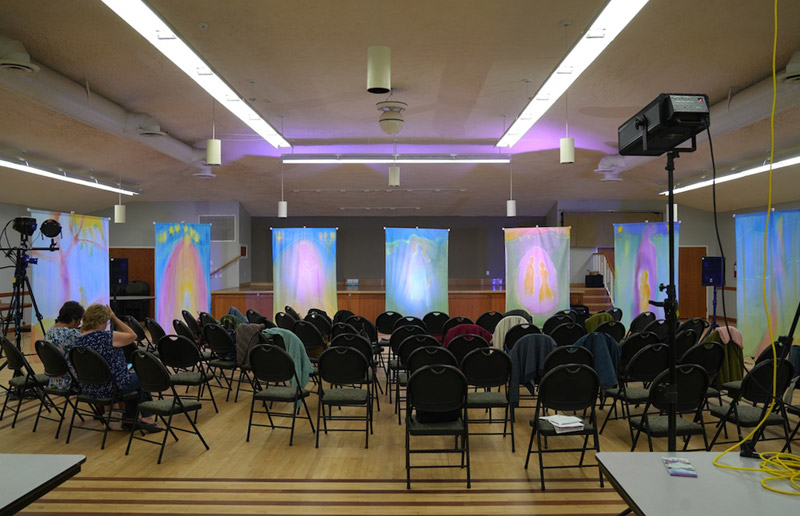 This then became my inspiration for Manitoba, and I had great helpers to bring the seven banners to birth. Initially there were ten sketches I had created to inspire us and work from to 'serve' the Novalis fairytale in a collaborative offering of the Literary Arts and Visual Art Sections but then they ended up magically transforming the mood and space of all three evening events. Their presence seemed to change with each evening and I noticed that they stood there as the columns did in the first Goetheanum that was destroyed in the fire of 1923/4: Saturn, Sun, Moon, Mars, Mercury, Jupiter, Venus and they created, for moments, a Goetheanum in the West!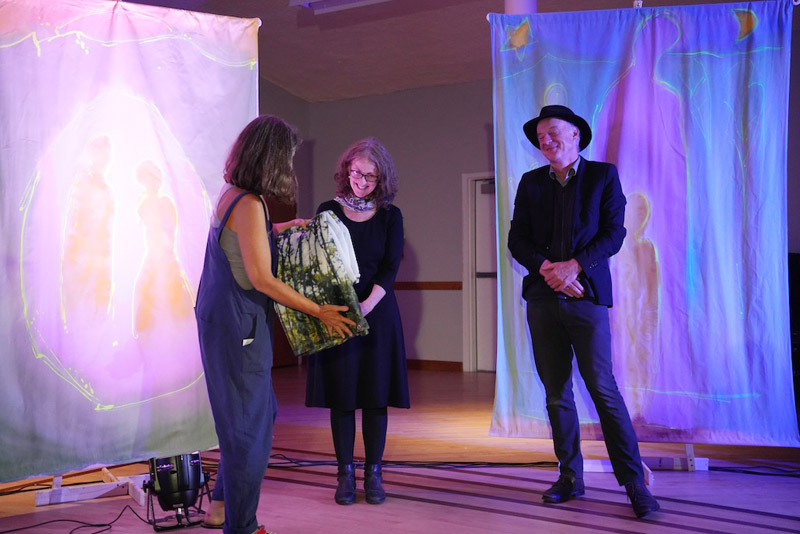 These large coloured cotton banners transformed the entire space as we set up for meals and social gatherings and created an etheric aesthetic environment worthy of Art. The social versus performance space became like the large and small cupola to me, of course in a living way, not fixed but still they did, as we moved back and forth in the hall.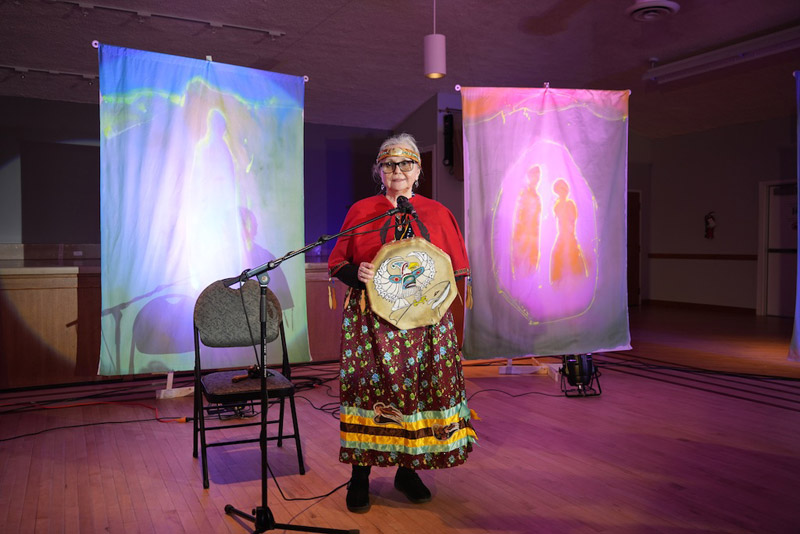 We can also recognise this polarity in the two locations we created, the farmland and the hall, again an artistic weaving back and forth, outer and inner, from Nature to Culture, again, in a living way. We laid a foundation stone into the ground of Manitoba soil by walking it in Beauty and with Good intentions and we awoke to the columns of the cultural epochs through time in Fraserwood Hall. We moved back and forth with our offerings, creating human warmth of soul through the turning of time. Rain, wind and sunshine, all the elements partaking in the creating of something for the future. All initiative taken, all offerings given and received seem to be flowing into the listening groups that then created a large Grail cup on the last day through a movement exercise guided by a biodynamic farmer.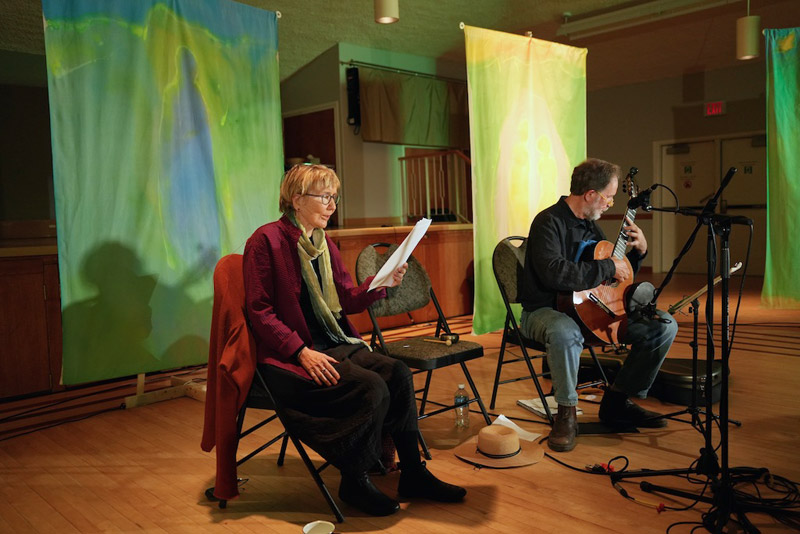 This festival/conference was a kind of initiation. I feel the first three days were really hard and difficult. Sunday into Monday became a turning point, as we 'stood' with the 4th panel, along with the change of weather. The second part of the week seemed to be building into a we. WE are all in this together, each in our own personal situation and yet we are all creating the GOOD together, from our warm hearts from our heads directing us toward an unknown future. We created a true work of art, unfinished as it may seem. Are not the words Chaos and Cosmos closely linked? Creating out of Chaos, Cosmos can arise, it never stays but forever changing and moving, it shines in Beauty.
Regine Kurek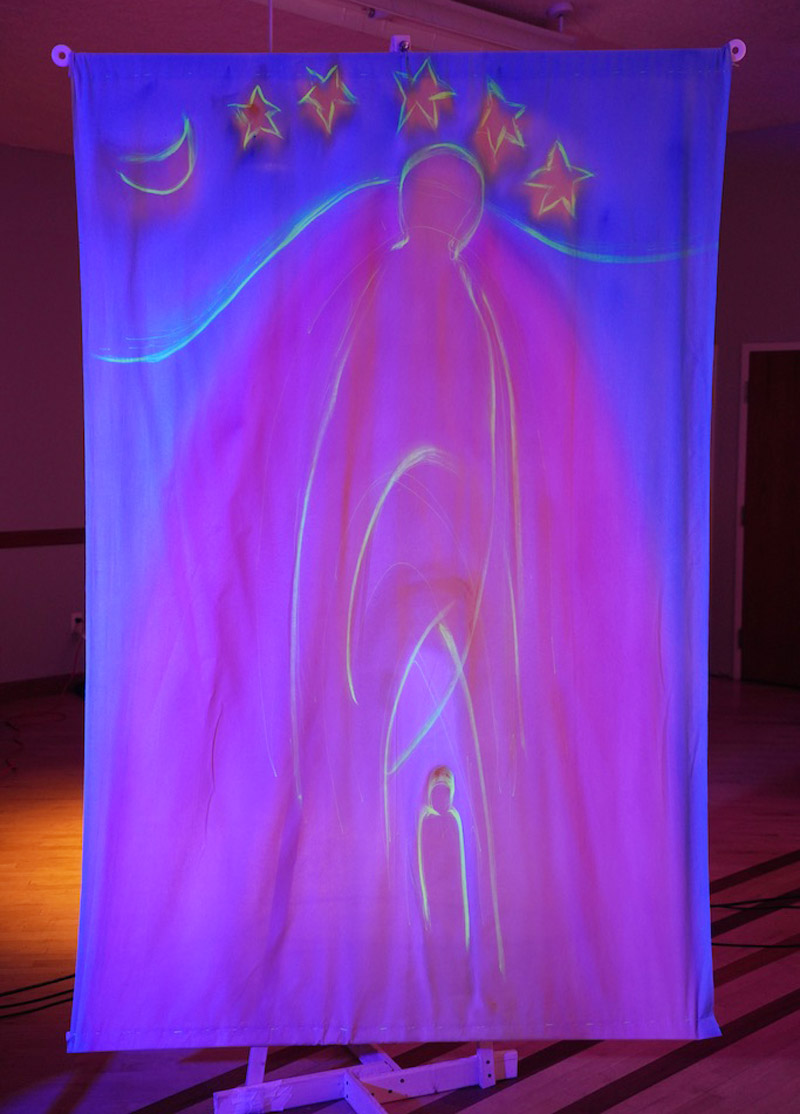 The banners that were made for this Festival are now back in Thornhill, ironed and hanging, waiting to make their next appearance at the Michaelmas Festival which will take place later this month in the local anthroposophical community in Thornhill, a joint project whose participants include the Hesperus Festival Committee, the Polaris Branch of the Anthroposophical Society and the Christian Community.
Click here to read another perspective on the Festival in Gimli.