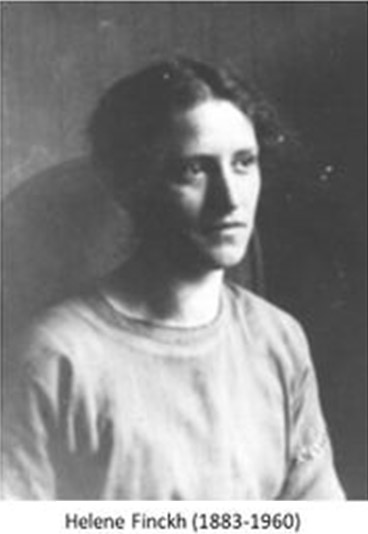 I thought I would devote this blog post to one of the great unsung heroes of the anthroposophical movement: Helene Finckh.
As you all know, Dr. Rudolf Steiner's collected works are massive: over 330 volumes with very little true repetition, although the same topic is often presented from various sides. The majority of the collected works are lectures. None of these lectures were audio recorded. They would be lost except to history but for the work of several dedicated stenographers.
One of the earliest was Walter Vegelahn, a business man who knew a form of stenography and was taking notes for himself. Many of the pre-1909 lectures (CW 88 to 115) are largely based on his notes, supplemented with less detailed notes from others.
During those early years, some audience members, who were not as accurate as Mr. Vegelahn, began sharing their notes which then led to typescripts being circulated; typescripts that often contained serious errors and misrepresentations. As a result, Dr. Steiner eventually agreed that professional stenographers should be hired to ensure a more accurate record of his lectures would be created.
At first he resisted having stenographers present at all, preferring that the lectures be experienced only by those present. Initially he insisted that the stenographer be hidden behind a screen, out of sight, but after a time, this requirement was dropped. To the end of his life Dr. Steiner was not fond of having his lectures taken down verbatim, as he expresses in the following quote from late in this life:
"Today when a lecture is given even to the most exclusive circle, the question always arises of finding a stenographer. I do not like stenographers. One must put up with them, of course, but I would much rather they were not there." – Rudolf Steiner, Agriculture Course, Q&A session on 14th June 14, 1924; CW 327
Of course, the only reason we know that he felt this way only is because a stenographer was present to record this comment!
Dr. Steiner entrusted the task of overseeing the stenographers to his wife Marie Steiner. She hired the them, supervised their transcripts, and prepared the lecture texts for publication. As Dr. Steiner only reviewed and corrected a few of these lecture series, most were published with the original proviso: "Errors occurring in transcripts which I myself have been unable to revise will just have to be tolerated."
Of the over 6000 lectures Dr. Rudolf Steiner gave during his lifetime, about 3700 were documented by a stenographer. In most cases, the Rudolf Steiner Archive still has the original stenography pads. This work was done by five people over the years: Walter Vegelahn, Hedda Hummel, Georg Klenk, Franz Seiler and Helene Finckh.
Of these five, Helene Finckh (1883 – 1960), is the most important, and arguably the most accurate. A professionally trained stenography, she was hired by Marie Steiner in 1916. In addition to take the notes of lectures, she served as Dr. Steiner's secretary. After Dr. Steiner died, she continued on as Marie Steiner's secretary until 1948. For the rest of her life, she worked on the development and publication of Rudolf Steiner's Collected Works, along with many other collaborators.
Helen Finckh is responsible for having made the verbatim records of roughly 2,500 lectures. Her notes include asides, digressions, pauses, notes on Dr. Steiner's hand gestures, and incomplete sentences. As such, her notes catch some of the vitality of the actual spoken word. Much of this detail is lost as these verbatim notes are transformed into the form of the lectures we have today.
This blog post goes out in recognition of Christine Tansley, who takes the minutes at the Rudolf Steiner College Canada board meetings. She does an excellent job of this; how often I have read these minutes and am reminded of some task I had promised to do. Thanks to Christine for her great work and for keeping us on track!
Acknowledgement: Some of the information in this update comes from the Rudolf Steiner Archive website: www.rudolf-steiner.com