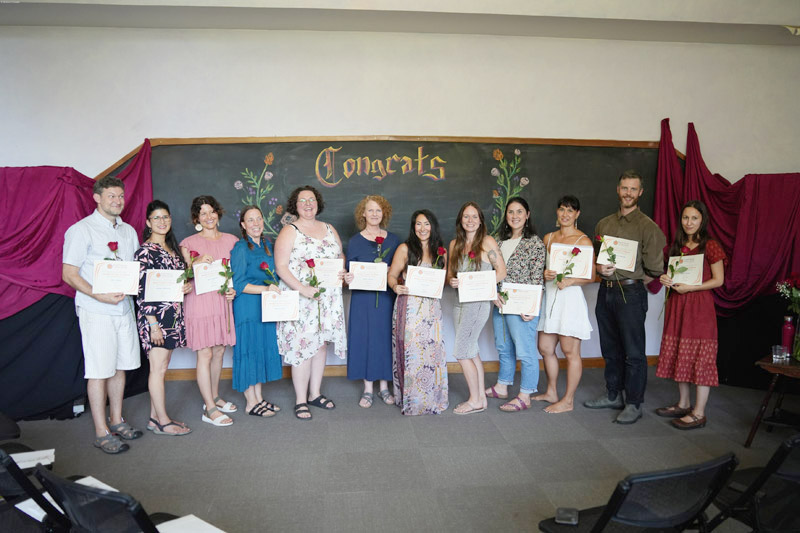 The graduation ceremony on Thursday July 27th featured one of the largest classes to ever graduate from the part time Professional Development for Waldorf Teachers Grades program. See photo above of all the grads. This was partly because six out of the twelve graduates had come for their third summer of studies to RSCC this year from the West Coast Institute where they had completed their first two years. The West Coast Institute had closed its grade-school program due to financial issues but is continuing with its early childhood program. Photo below is of just the grads from the West Coast Institute.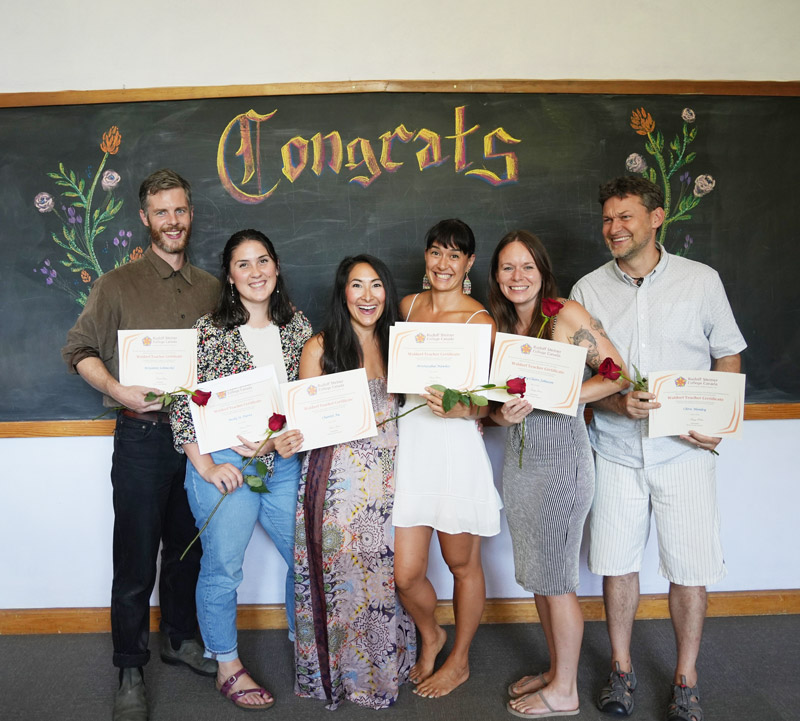 One could sense that these students from the west coast brought something of a more Dionysian element into the graduation and the summer festival as a whole, with their exuberant expressions of joy upon getting their certificate, and initiatives like lunch-time coffee-house sing-a-longs, and rewriting one of the morning singing session songs with seven verses describing their time at RSCC to present on the last day. You can see one of those exuberant expressions of post-graduation joy in the photo below.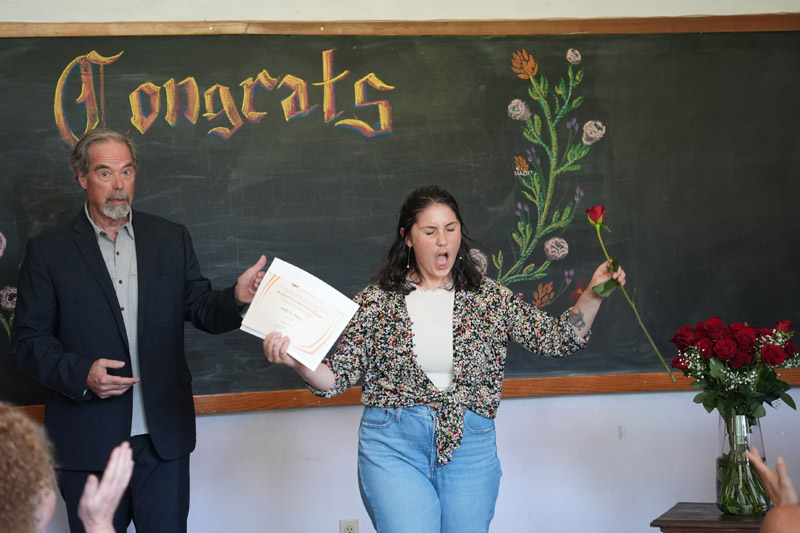 The next photo is from one of the lunch time music-making making sessions, in the Toronto Waldorf School forest playground. The woman on the far right, is Nancy from New Zealand. In the Week One grade 4 intensive she showed the class some Maori stick games she had learned down under. Full disclosure: For this picture I suggested Martha sit on that fallen tree with her banjo and that Chris come a little closer with his guitar, and that the singers gather round behind them — all in the interests of a happening photo!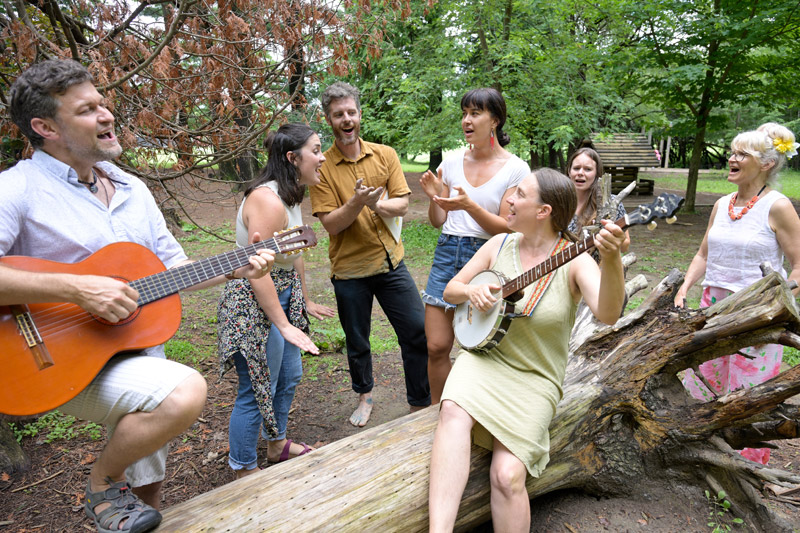 At the graduation itself, Instead of James or one of the teachers speaking about each of the graduates, students from the first and second years undertook to each interview one of the graduates in advance and then speak about them at the graduation. I enjoyed getting a glimpse into all the fascinating inner lights of the graduates, refracted through the widely varied prisms of the different presenters.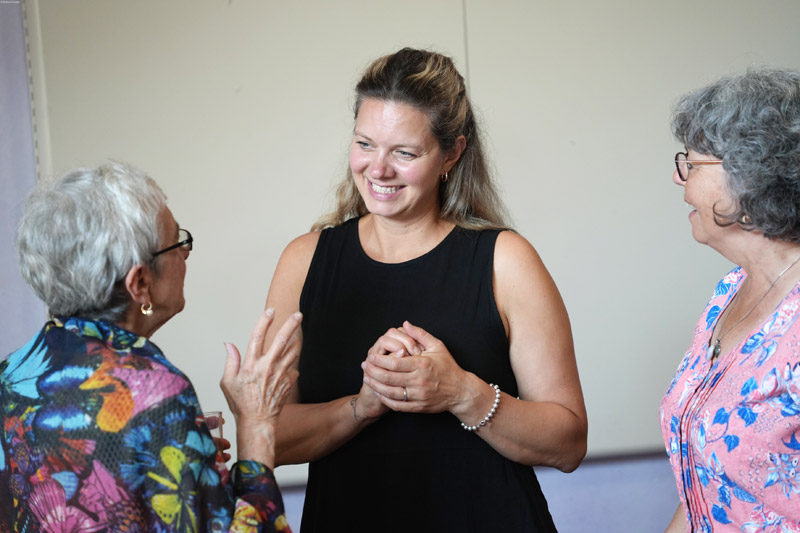 The first and second year students who organized the graduation were lucky to have Nicole (middle in the photo above) from TWS on their team. Nicole used to be a professional event organizer, and her professionalism showed through in many nice touches such as a series of little boxes with pictures of the graduates affixed. Next to these were little papers on which you could write messages to each of the graduates and put them in their box. I've never seen that at an RSCC or RSCT graduation before. What a great idea. See photo below of the table with those message boxes on it.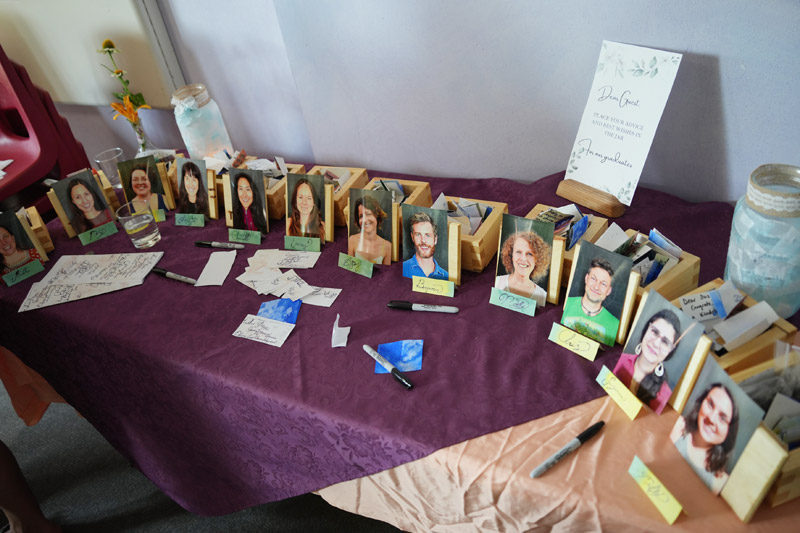 I thought it was wonderful to have this Dionysian impulse from some of the west-coasters, helping to counterbalance what seems like the default Apollonian tendency of all things anthroposophical, though perhaps there were some who found the graduation more casual than they were used to. But I thought it was just wonderfully refreshing, and fit well with the mood of the whole Summer Festival.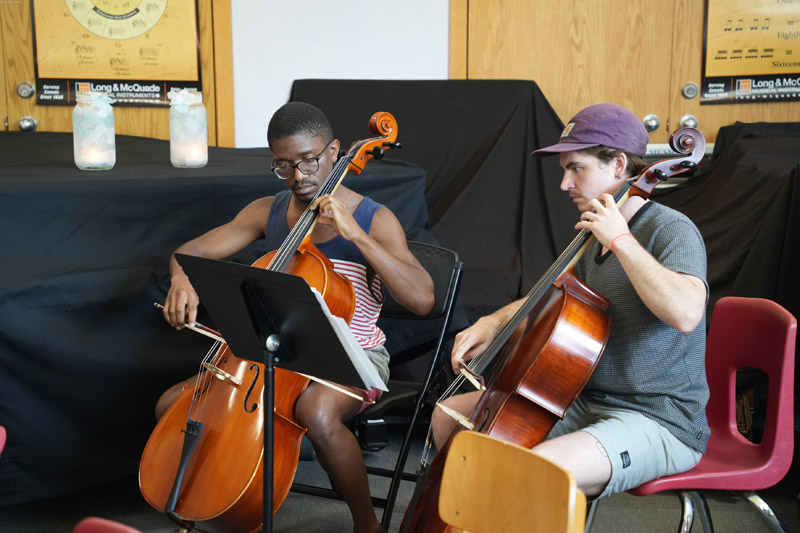 James rented the last two cellos they had at Cosmo Music so we could have these two teachers from Shining Mountain Waldorf School in Colorado, Lee Griffiths and Alex Hardesty play together at the graduation. Lee, on the left, also played cello to accompany the morning singing sessions.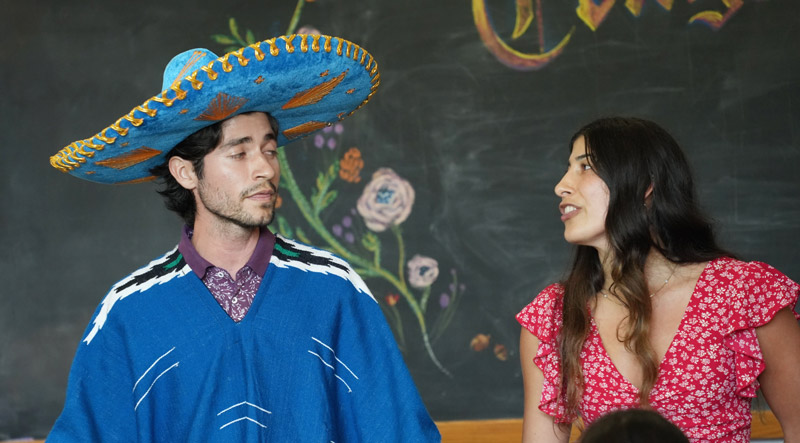 Above: Andres and Veronica opened the graduation with a spectacular Mexican-themed duet, and, as you can see, Andres wore a poncho and sombrero to fit the theme. Andres came to the College from Mexico, Veronica from the Polaris school in Ottawa.
Photo below is of a movement exercise from Henry Muth's Week Three Geography and Maps course. You can see some of the blackboard map drawings the students have done, behind them here.
Below: Kayla shows off two needle-felted gnomes she made in Dianne Goldsmith's needle felting class.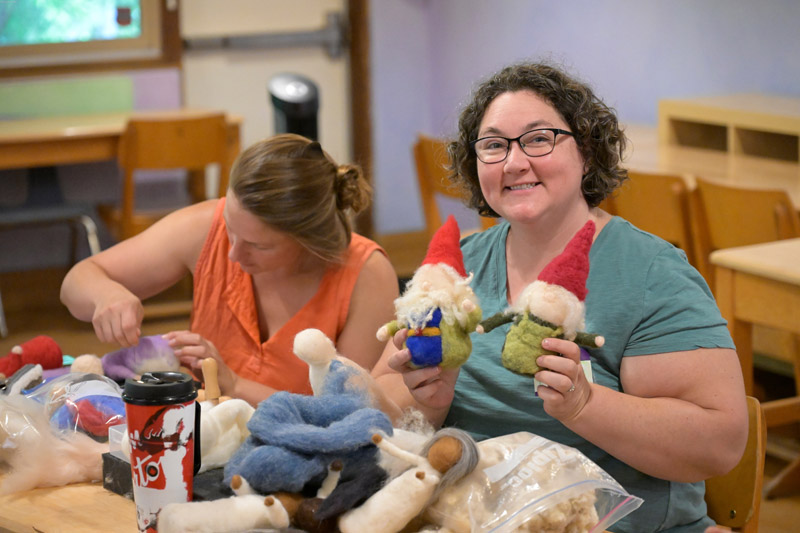 Below: Students taking a moment to chat in Jef Saunders' veil painting class.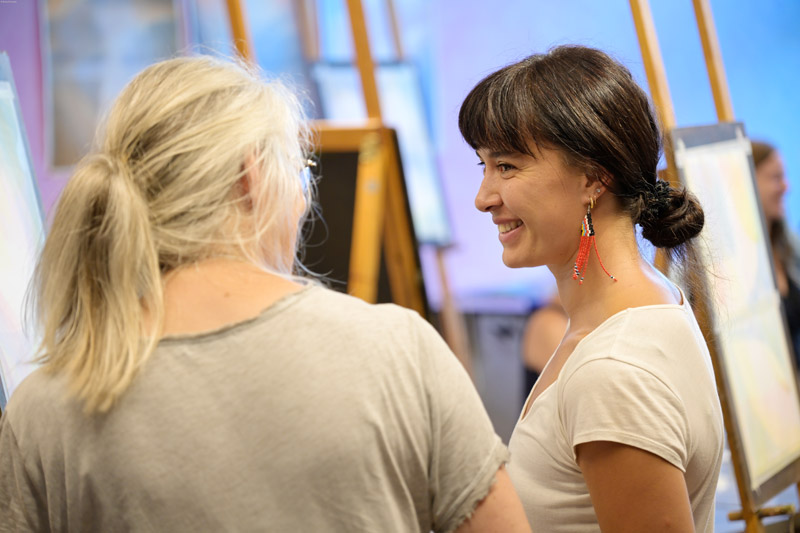 There was something about this particular Summer Festival that felt different. Perhaps it more fully realized the original vision for the event. Maybe I was different. But this time I really felt a strong resonance with the two times I had attended the Rudolf Steiner Institute in New England back before the turn of the century. The first time was in 1980 when I went to study with Lawrence Edwards, a Waldorf teacher from Edinburgh, and "Vortex of Life" author, who taught a class on path curve geometry and its connection with nature forms like plant buds. The Institute that year was held at a college campus in Natick Massachusetts, near Boston. That was also the summer I got together with Elisabeth, the woman who would become my wife — so many happy memories from that time.
RSCC co-founder Diana Hughes had long been on the board of this Rudolf Steiner Institute and was likely involved in some of the behind-the-scenes work that resulted in so many illustrious anthoposophists and Waldorf teachers coming to North America for those few weeks each summer. The courses were great and so was the social life. It was a wonderful opportunity to meet a wide spectrum of teachers and seekers from all across the continent. I remember wandering through the lunch hall after I'd eaten, asking people if they wanted to play volleyball. It was like deja vu to see Ben asking people to play lunch-time volleyball at this year's summer festival. Then in the evenings at RSI there were extra concerts and special lectures, and sometimes we drove into town for ice cream.
The second time I went with my wife to the Institute was in 2005, to study clowning with Vivian Gladwell (from France) and geomancy with Marko Pogacnik (from Slovenia). Everything started wonderfully, Siobhan Hughes, Diana's daughter, was in charge of the kitchen, and I remember how she wanted us to tear the lettuce by hand, rather than cut it with a knife. Our revisit to RSI was unfortunately cut short that time. We had to leave early because my mother was dying. And we never went back again to the RSI. I was saddened to hear, just a few years after, that the Institute had permanently closed and would be no more.
It's like what one of the teachers, Roswitha Spence, told me when I left Emerson College UK, in 1976, that I would never be able to come back to what I had experienced there, because that unique constellation of students would never be together again, in this life at least. Perhaps what I value most from my time there was a glimpse of the kind of learning community that had been possible there. I think I recognized something like that in the mood of this year's Summer Festival.
In addition to all the thanks that were expressed in the last blog post — to the staff, teachers, volunteers, caterers, participants, and to our partners at Toronto Waldorf School — I would like to add an acknowledgement of, and thanks for, the dedicated work of RSCC executive director James Brian who has nurtured the College over the past five years with his devoted servant leadership.