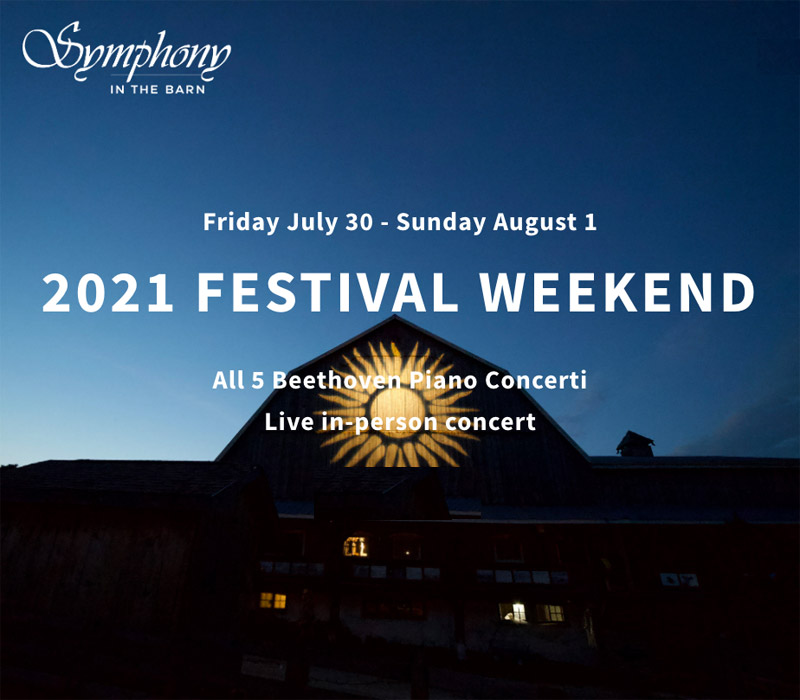 RSCC friends and collaborators Michael Schmidt and Elisa van der Hout of Glencolton Farms and their many musical friends are once again bringing culture and agri-culture together by hosting a summer music festival out in the country (about two hours north of Toronto) at Glencolton Farms. And it's taking place this coming weekend July 30th to August 1st.
Past Symphony in the Barn events have also featured prepared food attractions with celebrity chefs, but that doesn't seem to be taking place this year. Perhaps the food program was a casualty of Covid restrictions. But after more than a year of lockdowns, we can be grateful for a live musical event of this magnitude, even if it doesn't come with food. See program details below:
Symphony in the Barn 2021 Festival Weekend will take place from July 30th to August 1st, 2021. The critically acclaimed Symphony in the Barn Festival at Glencolton Farms, which is one of Canada's leading biodynamic farms, brings together music, performance installations, and the tastes and sounds of idyllic farm life as an immersive backdrop for a three-day weekend festival.
This concert event will be LIVE and in-person. Symphony in the Barn is excited to present all five Beethoven Concerti featuring an astounding line up of Canadian soloists with strings orchestra.
CONCERT SCHECUDLE
FRIDAY WITH BEETHOVEN MAIN STAGE
Friday July 30, 8 pm
Piano Concerto No. 1 in C major, Op. 15
Sunny Ritter
Piano Concerto No. 3 in c minor, Op. 37
Richard Herriott
ENCORE CONCERT
Friday July 30
Emmanuel Vukovich plays solo Bach
SATURDAY MAINSTAGE CONCERT
Saturday July 31, 8 pm
Piano Concerto No. 2 in B-flat major, Op. 19
Karolína Kubálková

Piano Concerto No. 4 in G Major, Op. 58
Kati Gleiser
Kevin Mallon: World première composition
ENCORE JAZZ CONCERT
Saturday, JULY 31, 10:30 pm
Legendary trumpeter Michael Louis Johnson, with Molefe Mohamid Mitchell, violin, Nathan Beja, guitar and Terry Wilkins, bass.
SUNDAY SURPRISE SERENADE PERFORMANCE
Sunday August 1, 2 pm at Saugeen Academy in Hanover ON
This traditional afternoon concert is an enchanting programme featuring surprise collaborations among our Festival Artists. This indoor concert takes place at SITB's newly acquired venue: Saugeen Academy, 381 10th St., Hanover, N4N 1P7
NEW THIS YEAR!
SUNDAY EVENING WITH THE CLASSICS
Sunday August 1st, 8 pm
Piano Concerto No. 5 in E-flat major, Op. 73
Francine Kay
Mozart's Divertimento in D Major, K 216
Kati Gleiser: World première composition
Make it a full weekend experience with our weekend pass
Your Festival Weekend Pass includes all four concerts – Friday's Main Stage Concert, Saturday's Main Stage Concert, Sunday's Surprise Serenade and Sunday Evening's Main Stage Concert.
Make it a full weekend immersion in Agri-Culture and camp on the Farm, email Glencolton Farm for more information.
Click here for more details and to purchase tickets for the whole weekend or for individual performances.
COVID-19 UPDATE – Please be sure to check the website regularly for the latest updates
Bring a mask when you come to SITB this season. You may be required to wear one according to health and safety regulations.
© Copyright 2021 RSCC All Rights Reserved.