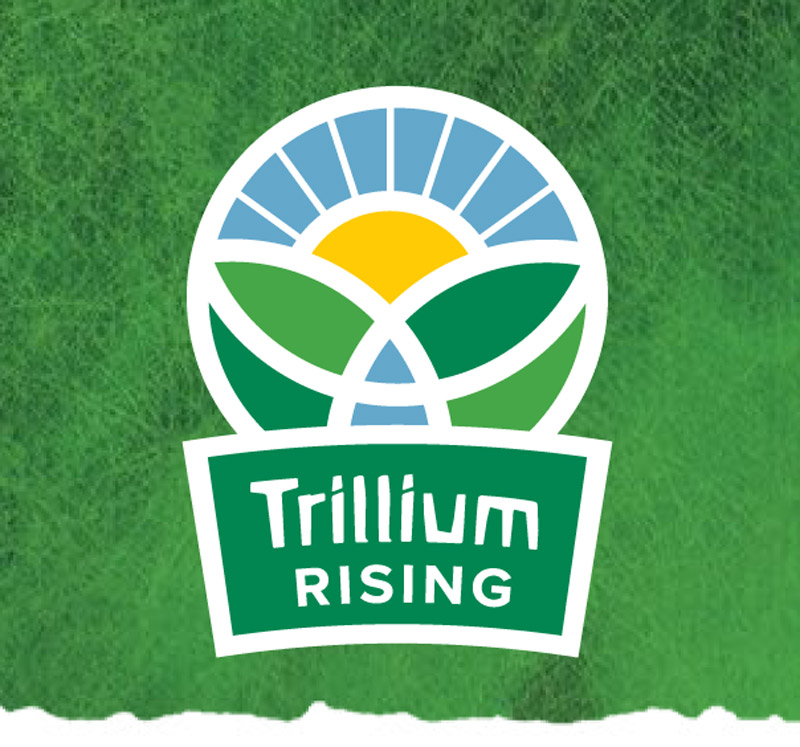 Trillium Waldorf School (TrWS) will publicly launch a $3 million dollar Campaign on October 1st, 2021 to support the purchase of its school and property by June of 2022. The campaign includes the issuing of community bonds.
The TRILLIUM RISING CAMPAIGN has the goal of raising $3 million through a combination of community bonds and philanthropic gifts, to purchase our school and property.
TrWS has an incredible opportunity to purchase the school and property, that has served hundreds of children and their families for more than 25 years, from our generous and gracious landlords, Christine Golec and Mark Carragher. The school needs to secure just under $4 million to purchase the building and property. The building and property are valued at well over $5 million. Our benefactors continue to give to the school with a significantly reduced purchase price.
Trillium Rising grew out of the capital feasibility study, conducted by Panorama Consulting. The feasibility study indicated that our community would be able to raise $1 million in philanthropic gifts. In order to reduce the amount required for a mortgage we began to explore other financing options.
Several board members and other community members had invested in community bonds and they encouraged us to explore that avenue to assist in the purchase. That is when we began meeting with Tapestry Community Capital. Tapestry Community Capital is a non-profit co-op that supports other co ops and non-profits in raising and managing community investment. Since 1998, the Tapestry team has supported some of Canada's largest social enterprises in successful community financing campaigns. They, as do we, believe in the power of community. They have worked with organizations across multiple sectors in raising and managing over $80 million in investments from thousands of investors. They believe in projects that have a social impact. Tapestry, and all their clients, strive to leave the world a better place. They have the experience to help us structure our investment, their team has the expertise to support our team in raising the needed funds and provide the back-office support to ensure our investors are managed reliably and professionally. The goal is to raise up to $2 million in community bonds. TrWS has an agreement from our lender for a $2M mortgage.
Owning our building and property will enable TrWS to continue providing the extraordinary Waldorf Education that develops bold, courageous, free-thinking, loving and giving citizens well into the future.
TrWS intends to raise $1 million in philanthropic gifts and an additional $2 million through community bonds, a proven social finance tool that generates both a social and financial return. This tool allows an established organization like TrWS, to leverage their community of supporters to help finance the purchase of a fixed asset. In return, investors earn a fixed interest rate for a set term.
With investment minimums as low as $1,000 and interest rates as high as 4%, Trillium Bonds are designed to attract a wide range of bond purchasers from everyday Canadians, to corporations, foundations and Waldorf Education supporters.
"We've intentionally launched a series of bonds to suit a wide array of people in our community, while offering them a competitive return at the end of each year" says Mike Craig, Chair, TrWS Board of Directors. "Our bonds will appeal to investors as they are backed and secured by our real estate and allow funds to stay within the community."
With over $800,000 in philanthropic gifts raised or pledged to date, our first goal is to sell $1 million in Trillium Bonds by December 31, 2021 and the remainder by May 31, 2022. TrWS calls on school supporters, local businesses, foundations and other advocates to be key contributors by investing in this project. Those interested in making a gift and/or investing can do so via guelphwaldorf.ca/trillium rising. We also invite those who want to know more about Trillium Bonds to join the TrWS Bond team at an online Investor Information Session on October 7, 2021 at 7pm. Register for the event using the following link, Investor Information Registration.
About the school 
Guided by our mission and vision, TrWS provides students with a comprehensive Waldorf education that is artistically rich and academically rigorous.
Trillium recognizes that young people are entering a world of increasing challenge and complexity, making the contributions of our school to Guelph and the surrounding area more compelling—more necessary!—than ever.
Waldorf education promotes the importance of human relationships and respect for the natural world. The Waldorf methodology educates children in a way that will prepare them for the world ahead while encouraging them to be leaders and dynamic thinkers that are independent, curious, bold, and compassionate. For more information about this remarkable way of learning, please visit guelphwaldorf.ca
Download a one-page pdf description of the bond offering using the link below:
This is the link to the campaign website: guelphwaldorf.ca/trillium-rising