To mark the occasion of Diana Hughes' 80th birthday today, August 5th, 2021, we thought it would be appropriate to post this never-before-shown video interview with Diana in which she talks about her involvement in the beginnings of both the Toronto Waldorf School and the Rudolf Steiner Centre Toronto (now Rudolf Steiner College Canada). Thanks to TWS for permission to use the video.
As she says in the interview, Diana was one of the founding teachers of the Toronto Waldorf School back in 1968, when it opened for the first time on Lillian Street. She had 11 students in that first grade one class. Alan Howard had three students in his grade two. And there were six children in kindergarten.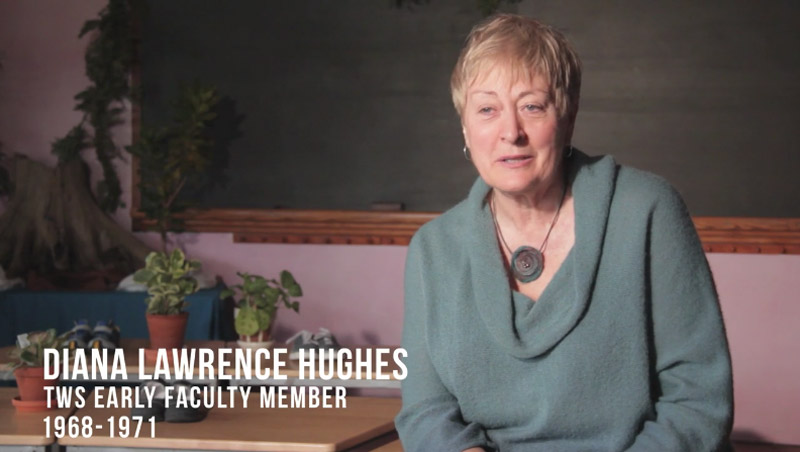 After teaching at TWS for a few years, Diana moved into a leadership role with the Waldorf School Association of Ontario and later became co-founder of the Rudolf Steiner Centre Toronto, helping train Waldorf teachers for TWS and for the many other Waldorf schools that were being founded in Ontario and across Canada during the 1980s.
Here's what Diana originally wrote for her bio for the board of directors page on this website (her bio on that page now is an abridged version):
"Diana Hughes has been a member of the RSCT board since its beginning in 1984. Before then she was a founding class teacher of the Toronto Waldorf School, the first Waldorf School in Canada when it opened in 1968. Later during her parenting years (four children), she served as president and then executive director of the Waldorf School Association of Ontario.
She was director of RSCT's Waldorf Teacher Education program for 25 years until her retirement from that position in 2009. Since then she has been a contributor to the Foundation Studies in Anthroposophy program and a mentor in the full-time teacher education program.
Her studies have included post graduate work at the University of Birmingham's Shakespeare Institute in Stratford-upon Avon and a master of education degree in philosophy and history from the University of Toronto (OISE). She has published articles in Child and Man/Steiner Education, Renewal, Ethics in Education and, with John Kettle, co-edited Waldorf Education, Classics from the Journal for Anthroposophy, 2010. Among her favourite words are "encounter", "context", "discernment" and "conversation is more important than gold"."
Although Diana "retired" in 2009 from leading the teacher education program at RSCT, she continues as a board member, and is active in many ways in helping the now RSCC move forward. Everyone who has went to TWS as a child, and all the parents whose children went to TWS, and everyone who has learned or been inspired through RSCT is invited to join with us in thanking Diana for her lifelong dedication to helping bring Waldorf to Canada.
If you enjoyed this post you should also check out the video interview with John Kettle, Toronto Waldorf School Founder, 1928-2020.
© Copyright 2021 RSCC All Rights Reserved.