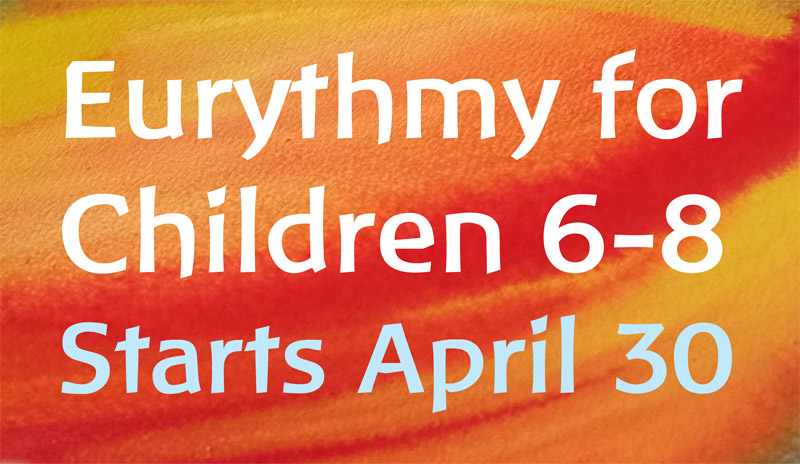 A friend of the RSCC, eurythmist and speech artist Lori Scotchko, is offering a new 7-wk course of Saturday afternoon eurythmy classes for children 6-8, starting Saturday April 30th, 2022. The course is primarily intended for children who are being homeschooled or who are in non-Waldorf schools. However Waldorf school students are welcome as well. The following is from her poster for this course.
Dear friends, this Spring, we are very excited to offer a 7-week Eurythmy course for our children. Eurythmy is a unique form of art with many benefits for the ones engaged. This art of movement is said to be a visible form of language and music.
In the class, led by a wonderful and highly experienced stage and pedagogical eurythmist, Lori Scotchko, through moving their bodies, our little ones will artistically explore sounds of speech and music, perception of colour, meet one another and themselves. It will all be done in a fun and engaging way, suited to their age group.
The course consists of 7 classes, and will take place every Saturday, beginning from April 30, 2022, at the Chapel of The Christian Community Church, Thornhill. Please, bring a pair of soft ballet-style shoes with non-slippery soles for your child.
To register or find out more about the course, please, contact Olga at mailtoopp@gmail.com or (289) 489-3934.
Dates: April 30, 2022 – June 18, 2022 (no class on May 14th, 2022) Time: 3 pm to 4 pm
Address: The Christian Community Church, 901 Rutherford Rd, Vaughan, ON L6A 1S2
Registration fee: $130.00 per child
Course facilitator: Lori Scotchko
Accompanist (piano, flute): Anne Marie Kopp
ALSO: Adult Eurythmy Classes Thornhill and Toronto
While we're on the subject of eurythmy, let's not forget that there are also adult eurythmy classes starting soon. Downtown Toronto classes with Lois McCauley and friends start Saturday April 23. Eurythmy classes in Thornhill with Lori Scotchko start Monday April 25th. Click here to learn more about both those programs.
© Copyright 2022 RSCC. All Rights Reserved.