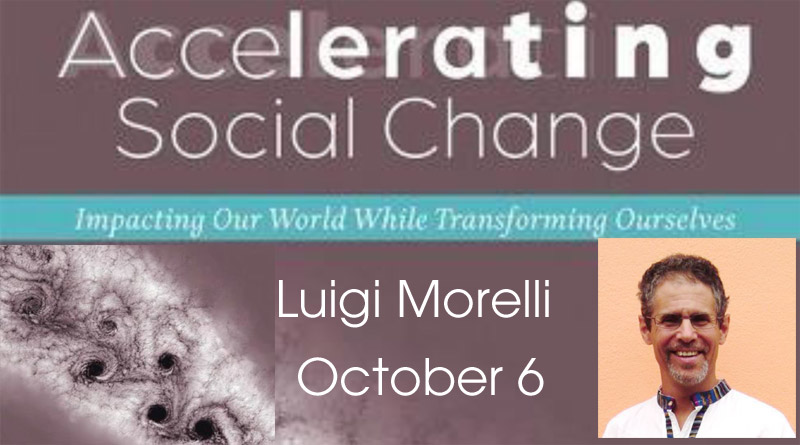 You are invited to share in an evening lecture with Luigi Morelli, in downtown Toronto at Friends House, 60 Lowther Ave. See details below and on the poster. Luigi's lecture is just one of the many fall events being presented by our friends at Anthroposophy in Toronto. See the link to their newsletter at the bottom of this post. Now here's some more about Luigi's event:
Public Lecture: True Thinking , True Feeling , True Living – An Introduction to Anthroposophy and the Need to Accelerate Personal and Social Transformation, with Luigi Morelli
Thursday, October 6, 7:00 pm to 9:00 pm, Friends House, 60 Lowther Avenue, Toronto
$20/person or pay what you can
Intended for a general audience, Luigi will introduce anthroposophy through an insightful exploration of everyday experience and current social challenges. Drawing on insights from his important book, Accelerating Social Change: Impacting Our World While Transforming Ourselves, Luigi will explain how social change is more than a political statement or demand; it is a moral and spiritual imperative.
Some of Luigi Morelli's books: Karl Julius Schröer and Rudolf Steiner (2015) , Aristotelians and Platonists: A Convergence of the Michaelic Streams in Our Time (2015), J. R. R. Tolkien, Owen Barfield and the Cosmic Christ (2019) and Abraham Lincoln: a Spiritual Scientific Portrait (2021)
Luigi is a remarkable person, whose life experience includes social activism, working with disabled adults, a deepening study of spiritual science, the application of spiritual science to current cultural realities and a wonderful stream of integrative insights. He is a prolific author whose writings cover diverse topics, revealing the quest of a true seeker who is full of love for life and full of hopeful suggestions for a better future.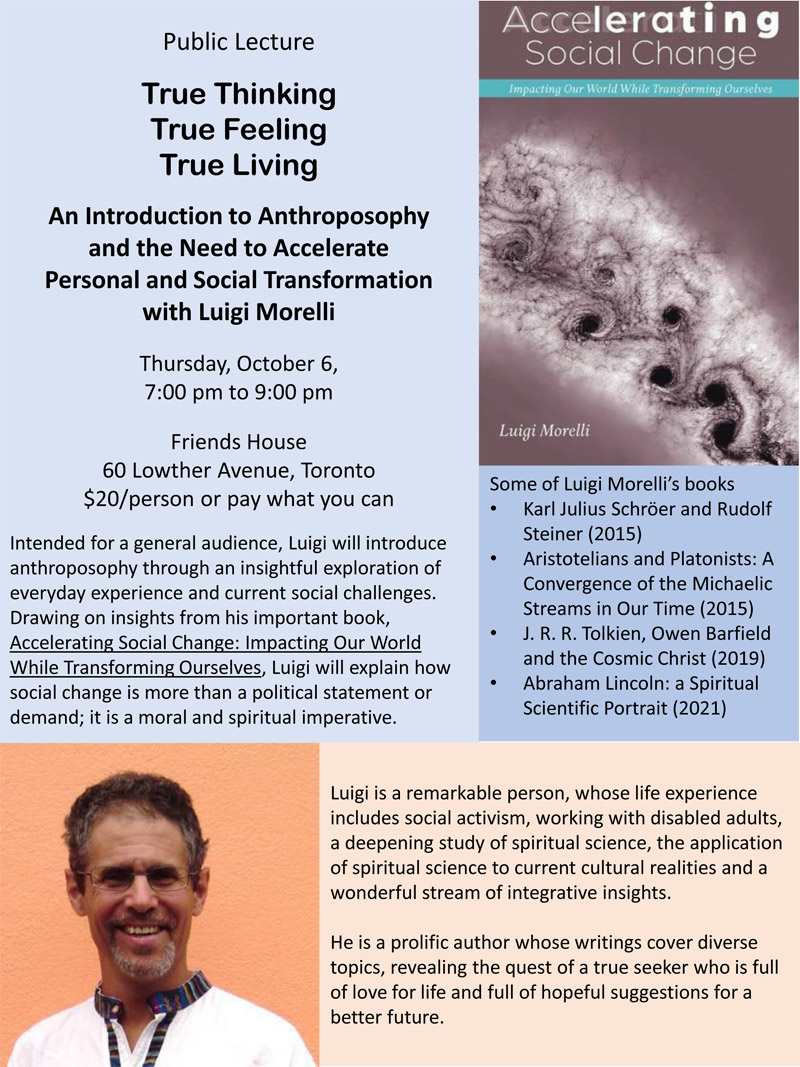 Luigi's lecture is just one of the many exciting events and programs being planned for the autumn of 2022 by our friends at Anthroposophy in Toronto. For more information, download their newsletter using the link provided below:
Also: Biodynamic and Threefolding Workshop Oct 1, 2
in Rockingham, featuring dairy farmer Edward August and guest speaker Sebastian Bilbao. Download event poster at link below: